At Roadlink Auto, they engaged themselves with buying and selling of pre-owned cars in Singapore.

Whatever your auto repair and service needs are, trust D Motorwerkz for prompt, honest and affordabl...

A-Drive Car Rental Singapore provides reliable and affordable car rental services to the masses.

Using top brand Autoglym, Glozz Factory covers grooming for almost all areas of Singapore.

Eurokars Pre-Owned offers you more choices when purchasing a car that befits your lifestyle.

At Otoca Jet Auto, customers satisfaction is our top priority.

ACE GT Pte Ltd is the leading Surface Restoration and Protection specialist in Singapore. Long term ...

Accident Repair & Claims Specialist!

Kerata Services is a repair workshop specialising in repair, spray painting and insurance claims.

Soon Xing Engineering Pte Ltd is a one- stop service centre for gearbox and control module repair & ...

Hassle-free car rental service at competitive rates

Detail Mania has a team of persistent people that pampers your car like how the royalties treat thei...

Advance Auto Sound Pte Ltd offers a wide range of in-car-entertainment, surveillance equipment and G...

Providing you with a one-stop professional toolkit for all of your auto needs, Torque 5 happily hand...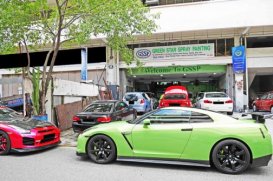 At Green Star Spray Painting we pride ourselves on our customer service and the ...
Login to Write a review for a merchant