A wide selection of new/used sports rim and tyres available at wholesale prices.

LHB Exhaust MotorSports is the distributor for G-Force Racing Suspension, Web Camshafts, Centerforce...

Helmed by a vastly experienced management team as well as a highly dedicated sales team, Jia Yi Car ...

Shuang Hup Credit Pte Ltd was establish in 1992. They specialize in Luxury Continental Cars for Merc...

Huge range of commercial vehicles for choice. Have their own workshop to support them for vehicle ma...

Established in 1998, Hua Kian Motor has a wealth of experience in providing professional servicing a...

Stealth Knight Works provides a range of comprehensive and quality servicing packages to keep your c...

Professionally trained painters, technicians and installers, we provide body repairs and refinishing...

AsiaExpress Car aim to provide hassle free car rental service to their customers at affordable rates...

Huat Lee is a one stop car service centre dealing with car servicing and repairs, replacement of tir...

Specialize in vinyl cut and print, outdoor posters and banner and automotive sticker and design, inh...

The place to beauty and personalise your cars. Car owners are able to get their personal favourite d...

Graffiti Garage is a one stop workshop for spray painting, airbrushing, bodykits and visual works on...

Advance Auto Sound Pte Ltd offers a wide range of in-car-entertainment, surveillance equipment and G...
Price

$470

Suitable For
Condition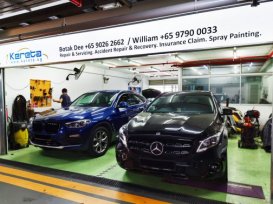 Login to Write a review for a merchant