Shuang Hup Credit Pte Ltd was establish in 1992. They specialize in Luxury Continental Cars for Merc...

Porsche has represented pure innovation, emotion and fascination for more than sixty years.

Unbelievably low price of $55 for car mats for entire car. Inclusive of door-step delivery. These ca...

HLC Leasing allows you to spread your rental within the year.

EAt Exclusive Limo, customers can find first class, personal service and they feature the ultimate i...

Huat Lee is a one stop car service centre dealing with car servicing and repairs, replacement of tir...

We have a strong commitment to safety, quality, customer satisfaction and integrity. We will go extr...

Fully committed and confident in meeting the demands and quality expectations of discerning customer...

Wah Hong provides quality auto body repairs and spray painting services for both passenger cars and ...

Opened till 3am daily, we offer a wide range of car accessories and welcome drivers of all Car Make...

RTMT-Rent-A-Car aims to reap the cost efficiency of being a retailer and provide competitive leasing...

At Green Star Spray Painting we pride ourselves on our customer service and the high quality of our ...

Graffiti Garage is a one stop workshop for spray painting, airbrushing, bodykits and visual works on...

Kheng Keng was first established in 1980 as a family business dealing mainly in USED-cars parts.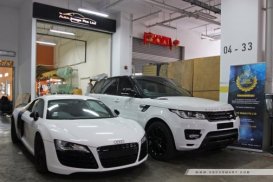 Login to Write a review for a merchant