Dealer
11 dealers ( view all )
Built in
Germany (launched 2010)
Variants

| | | | |
| --- | --- | --- | --- |
| | Rating | | Rated by 1 consumer ( Read ) |
Promotion

New E250 Cabriolet AMG Sports Package, Memory Package, 18"inch Rim, Keyless-entry. **2013 E250 AMG Sedan is available fo...
» Details
| | | | | | | | | |
| --- | --- | --- | --- | --- | --- | --- | --- | --- |
| | | | | | 12.1km/L | 204bhp | 5-speed (A) | |
| | | | | | 12.1km/L | 204bhp | 5-speed (A) | |
| | | | | | 12.1km/L | 204bhp | 7G-Tronic | |
Tel: 63666000

Tel: 67499110

Tel: 65436968
Tel: 67431900 / 67441900

Tel: 66349880

Tel: 67471110 / 68411110
Showing 6 out of 11 dealers selling
3 submodels of this vehicle.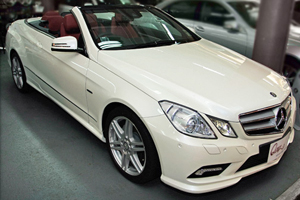 Mercedes-Benz E-Class Cabriolet
3.5 stars - based on 1 reviews
From the thrusting, arrow-shaped front end to the exaggerated shoulder line and muscular haunches, the new E-Class Cabriolet strikes an elegant balance between traditional and modern design. This approach is exemplified by the car's fabric soft-top, which echoes classic cabriolet styling yet incorporates state-of-the-art materials and technology.
Read more »
A car with looks, style, elegance, gadgets and a beautiful matching soft top. For such a car you would expect turning radius to be extremely bad, think again. Pulling away from the line has never been smoothe...
Read More »