Past Car
Models no longer being sold by local distributors.
Model unavailable since May 2013
Road Test - Nissan Teana 250XV
16 Dec 2008 | Nissan Reviews
Does the Nissan Teana deserve all the cold looks it gets sometimes for being an unhip, "uncle's car"? Now, we haven't gone insane, but we think it's rather cool.
Consumer Reviews of Nissan Teana
OVERALL RATING
13 Reviewers
4 out of 5

Comfort
4/5
Reliability
4/5
Handling
3.5/5
Features
3.5/5
Exterior Styling
3.5/5
Interior Design
4/5
Value for money
4/5
Engine Performance
4/5
9 out of 13 (69.2%) reviewers said they would recommend this vehicle to a friend.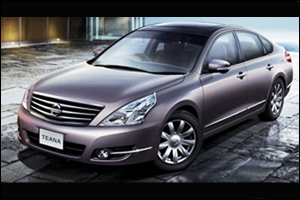 Nissan Teana
4 stars - based on 13 reviews