22 Jun 2012 | Foreign News : U.K.
Goodwood festival of speed to feature three iconic and rare six-wheeled F1 cars. This is the first time the cars will be on display together.
At theGoodwood Festival of Speed next week (28 June -1 July) there will be a gathering of unique British Formula 1 racers. For the first time ever, three F1 cars with 18 wheels will make a rare but probably historic appearance at Goodwood.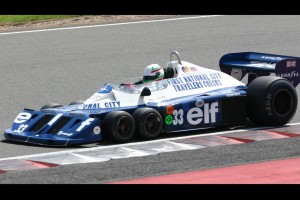 The six-wheeled Tyrrell P34, March 2-4-0 and Williams FW08B will be gathered for the first time ever providing an exceptional line-up of all three six-wheelers. If you have time and money to book a last minute flight, (and a ticket to the festival) we encourage any motor racing enthusiast not to miss this rare opportunity.
Tyrrell raced the celebrated P34 in 1976 and 77, with four wheels at the front. British F1 teams March and Williams later built experimental six-wheeled cars, but with four wheels at the rear to increase traction. The 1982 Williams was designed to enhance aerodynamics, increase grip and improve ground effects. It was tested once, and the unusual set-up provided extra grip and acceleration, besides setting lap records.
Unfortunately in 1983 six-wheeled cars were banned. The six-wheeled F1 cars on display will be joined by more than 300 other vehicles at Goodwood.