04 Jul 2012 | Foreign News : Japan
First images of the 2013 Mazda MX-5 has apparently found its onto the webosphere. Reports suggest the source of the picture comes from a Japanese brochure.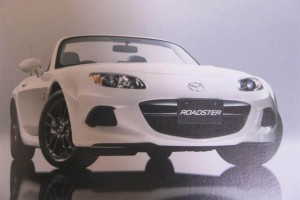 With the end of production for the RX8 and no impending news of a new or successor model, the MX-5 / Miata thas become the lone wolf of the Mazda's sports car stable. Nevertheless, the lone wolf is set for a 2013 refresh and now first photos have leaked online.


These photos were allegedly taken from a Japanese brochure and then posted online.
From the pictures, the new MX-5 is seen as having modest updates. The facelifted model features a new front bumper, revised fog lights and an "active" pop-up hood that ensures the car will comply with pedestrian safety standards. There also appears to be restyled wheels and an updated color palette.
As for the interior, the roadster gets a newly designed dashboard cowl and a blacked-out instrument panel gauges.
Further details of the model could be made official as early as next month, according to reports.