05 Jul 2012 | Foreign News : Italy
Designed to compete against the Porsche 911 and possibly a next-gen Audi R8 at its time of launch, the Maserati Gransport now comes with a twin turbo V6.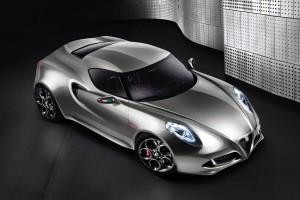 The Maserati Gransport is currently in the midst of development and is slated to be give the Porsche 911 a run for its money. Now, reports suggest it is going to get a twin turbo V6 for power.
According to
Auto Express
, the new Maserati GranSport may come equipped with a twin-turbo V6 engine that churns approximately 450 hp. Designed by Ferrari, the engine will show up in a range over other models, including the Quattroporte. The engine will be paired with a seven-speed dual-clutch transmission. In sync with previous reports, the GranSport will draw inspiration from the Alfa Romeo 4C you see above. Maserati will also work to keep the chassis light with carbon fibre construction, with a target curb weight of 2,600 lbs.