24 May 2011
The second generation Volkswagen Eos arrives with promising curves and a clever new roof to boot...
The appearance of the new Eos follows shares the same design language in the Volkswagen fleet. The clearly structured, horizontal lines of the Eos is shared with most in the fleet. Extending between the new headlights now is a radiator grille protector consisting of three black strust. Each trimmed with a narrow chrome strip.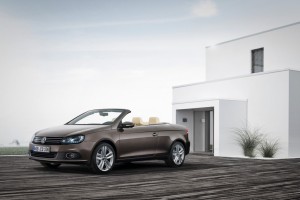 The Eos side profile benefits from new 'Minnnealpolis' 17 inch alloy wheels. From behind, the new model can be recognised by its reworked LED lights and rear bumper. The rear bumper has also been redesigned to reflect the changes in the front.
The interior of the Eos has new trim on the dashboard and doors. Matt Chrome details are applied as standard with the window buttons and light switches all framed in chrome.
The Nappa leather that adorns the interior of the Eos has been specially treated to repel the sun's UV rays to prevent the leather from heating up too much. Also new in the interior is the design of the DSG gear shift gaiter and lever.
Naturally, Volkswagen's RNS 510 radio navigation system is standard. The RNS 510 features full touchscreen control on its 6.5 inch widescreen display. For added convenience, voice control can be used for certain functions. The device identifies short voice commands like 'start route guidance' and immediately begins calculating a route.
In technical terms, numerous features distinguish the 2011 Eos. These include the KESSY keyless access lock and ignition system. The ignition is started by pushing a button which replaces the key slot.
The CSC roof can also be opened and closed through the use of the remote control, a new feature on the Eos. The car's combined cabriolet, sliding and coupe roof is an extremely well developed system and it remains the only one of its kind available.
A standard component of the five-part roof unit is a sliding panoramic sunroof that bathes the interior of the Volkswagen Eos in light even in poor weather. The fully opening CSC roof converts the Eos from coupé to cabriolet or vice versa in just 25 seconds.
The 2.0-litre TSI engine delivers 210bhp, 10bhp more than the previous model. The engine delivers a maximum torque of 280Nm at just 1,700rpm.
Combined fuel consumption is now only 7.5L/100km which means the new Eos uses 0.5 litres lesss than its predecessor. The corresponding CO2 emissions value is 174g/km. With tis 55 litre fuel tank, the Eos has a range of well over 700km.
Naturally, Volkswagen's dual clutch gearbox
DSG
comes as standard. The six-speed DSG is chracterised by a dynamic shifting of the gears that significantly increases driving pleasure while minimising fuel consumption. Even the most experienced drivers using a manual gearbox are not able to match the shift times of the DSG.
Technical SpecificationsEngine
Type: In-line 4 cylinders
Displacement: 1984cc
Max Power (bhp): 210 @ 5300 - 6200 rpm
Max Torque (Nm): 280 @ 1700 - 5200 rpm
Dimensions
Length (mm): 4423
Width (mm): 1791
Height (mm): 1444
Wheelbase (mm): 2578
Performance
Max Speed (km/h): 236
Acceleration 0 - 100km/h (s): 7.8
Price

N/A