24 May 2012
Stuttgart Auto unveils the all-new Porsche Boxster, promises the renowned clinical handling and performance - to set the locals' pulses racing.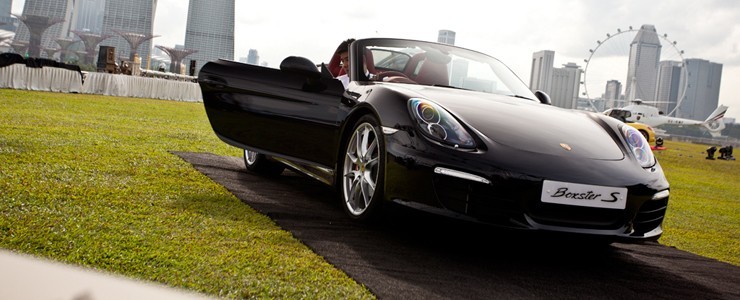 Since its debut in 1996, the roadster offering from Stuttgart Sportscar-maker Porsche has set numerous pulses racing across the globe. Now into its third generation, the Boxster re-invents the roadster experience, setting the benchmark in its segment.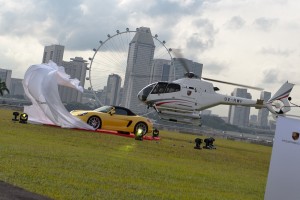 The Boxster models were unveiled to a crowd of media friends at the Marina Barrage – chosen to symbolise the 'openness' concept of the Boxster. Likewise, the launch event was nothing like before: The dramatic unveiling involves the use of a chopper, which performed a fly-by at close proximity before hovering next to the Boxster, revealing it to the crowd.


The new Boxster marks the departure of parts sharing with its flagship stablemate – the 911. The revamped chassis features lightweight construction, an important attribute to the dynamic driving experience, not to mention enhancing the fuel efficiency of the roadster. The result is up to 15 per cent more fuel efficient across the Boxster range. On the inside, the Boxster adopts the centre-floating console, which was first seen in the Carrera GT. The fully electric fabric hood works in 9 seconds, folding neatly behind the roll-over bars without the need of a convertible top compartment lid.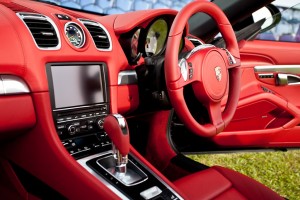 The new Boxster stays true to its origin, with the mid-mounted powerplant blessing the roadster with superb handling, at the same time freeing up spaces at the front and rear for the boot. Two petrol variants will be offered: a 2.7-litre flat-six pumping out 265 bhp in the base model, and a 3.4-litre delivering 315 bhp in the 'S' variant.


Sharing his enthusiasm for the new Boxster, Mr Karsono Kwee, Executive Chairman of Eurokars Group of Companies, said," The new Boxster sets a new benchmark for open-top driving enthusiasts in Singapore, re-vitalising its position as the dynamic sports car among the roadsters segment. The mid-engine layout of the roadster promises outstanding agility, performance and handling that will not disappoint the sport Porsche enthusiast."


Prices for the new Boxster start from S$218,210, and S$258,182 for the Boxster S (excluding COE). All Boxsters will come with a 5-year free maintenance and warranty program.



Technical Specifications

Porsche Boxster

Engine
Displacement: 2,706cc
Max Power (bhp): 265 @ 6,700 rpm
Max Torque (Nm): 280 @ 4,500 – 6,500 rpm

Dimensions
Length (mm): 4,374
Width (mm): 1,801
Height (mm): 1,282
Wheelbase (mm): 2,475

Track width (mm)
Front: 1,526
Rear: 1,536

Fuel Economy
Urban: 10.6L / 100km
Extra-urban: 5.9L / 100km
Combined: 7.7L / 100km


Porsche Boxster S

Engine
Displacement: 3,436cc
Max Power (bhp): 315 @ 6,700 rpm
Max Torque (Nm): 360 @ 4,500 – 5,800 rpm

Dimensions
Length (mm): 4,374
Width (mm): 1,801
Height (mm): 1,282
Wheelbase (mm): 2,475

Track width (mm)
Front: 1,526
Rear: 1,540


Fuel Economy
Urban: 11.2L / 100km
Extra-urban: 6.2L / 100km
Combined: 8.0L / 100km