25 May 2012
BMW Performance Academy continues its aim to impart safety driving techniques, with the debut of the latest member in the 3 Series family: the 320i sedan.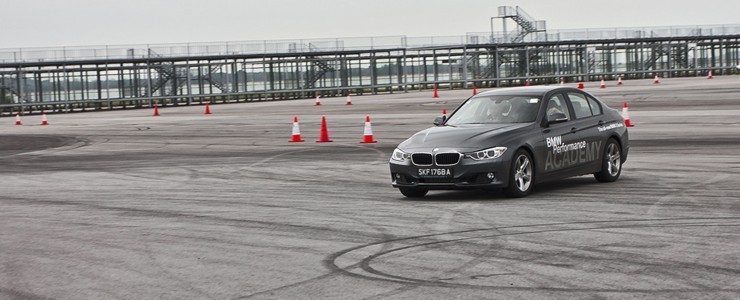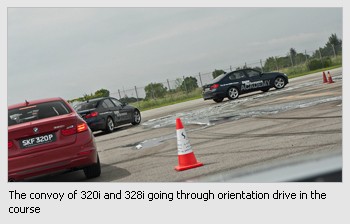 The four-day event is hosted by Performance Motors Limited (PML), the local authorised dealer for BMW cars. The aim is to provide its clients a better understanding of safety driving techniques. At the same time, customers were offered a chance to test drive the new BMW 3 Series sedans in the specially designed handling course at the Changi Exhibition Centre. A fleet of eight cars, including the latest member in the 3 Series stable – the 320i, was used for the event.
The latest 320i sedan packs the marque's all-new 2.0-litre powerplant, which features the firm's twin-scroll turbo-charging technology. The powerplant is also the first to come with both valvetronic and double VANOS, aimed to improve fuel efficiency without compromising power. Following the firm's tradition in making great-driving cars, the 3 Series has a 50:50 weight distribution. Coupled with short overhangs, wider track width, and an electro-mechanical steering system, the 3 Series is all set to deliver an unparalleled driving experience.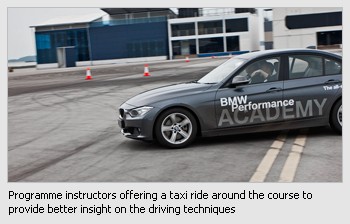 All three variants (320i, 328i and 335i) will come with an eight-speed transmission with adaptive functions – to better suit each individual's driving style. Each variant will also be available in three trims – Sport; Modern; & Luxury. In addition, an array of passive and active safety systems on board has enabled the 3 Series to claim a 5-Star Euro NCAP safety rating.
Speaking on the event, Mr Say Kwee Neng, Managing Director of PML, said," The four-day programme held from 24 to 27 May has been designed with a two-pronged objective. Not only are we poised to impart an invaluable set of safe driving techniques to our customers; simultaneously, the programme will be a unique experience to demonstrate the dynamic qualities of the new BMW 3 Series through active customer participation in a safe and controlled environment".