13 Jul 2012 | Text and Photos by Julian Kho. Live in Ljubljana, Slovenia
We catch up with the man in charge of the Project Management Design team for the A-Class to understand more about the latest hatch from Mercedes.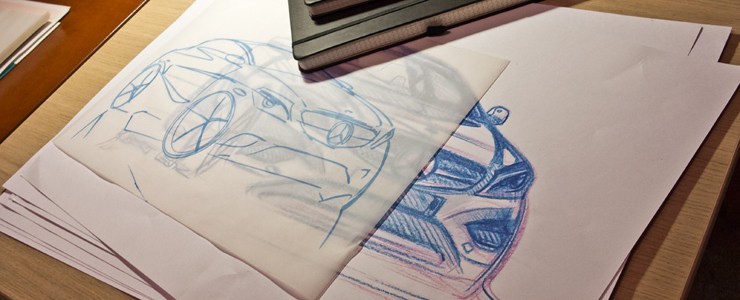 On the account that the
new Mercedes-Benz A-Class
is worlds apart from its predecessor in terms of its design, SGCM took the liberty to interview Oliver Schnell, the man who's in charge of the Project Management Design.
SGCM:
Congratulations on the success of the new A-Class! You must be feeling very proud now.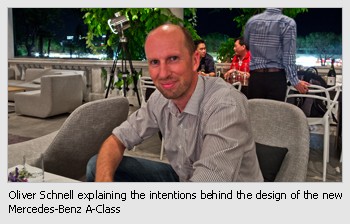 Oliver:
Thank you and yes, yes we are all very proud of our new product.
SGCM:
So Oliver, in your very own words, what are the essentials of the new Mercedes-Benz A-Class?
Oliver:
Sportiness. The car, unlike its predecessor, has a very sporty design now. It's also a lot about its sculptural surfaces because we wanted to have both negative and positive surface on the sheet metal to enable the A-Class to be expressive. This will also give the car a three-dimensional look which will enhance the character of it.
SGCM:
Based on this, how will the car stand out from its strongest competitors such as the BMW 1 Series and the Audi A3?
Oliver:
Well, I think it's the sportiest and most expressive car in its segment. There are a lot of different styling features of the car that is unseen in its competitors. Take the diamond grille in our A 250 Sport for example. There is a lot of depth in that design because of the three-dimensional effect it exudes. Even right down to our seats, the attention to the smallest details can be easily seen, with the high quality red stitching and illuminated cut outs on the seats.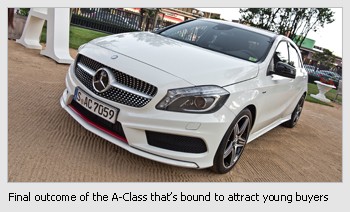 SGCM:
Based on the design alone, why is the new A-Class so different from its predecessor?
Oliver:
Well, it's simple actually. We want to reach out to a different target group. A younger audience between 30 and 40 years of age to be specific. Not only do we want to influence the buying decisions of the 1 Series and A3 buyers, we want to attract the young working adults who are looking for a Mercedes-Benz as their first car.
While the A-Class should be due to arrive here by end of this year, we certainly look forward to the A45 AMG that will be officially launched in the first quarter of 2013.
3 Comments


Neutral Newbie
Joined: 18 July 2012
Smartsoh
22-Jul-2012
Hi JulesK, thank you for your reply. Saw from other articles and reporters are saying that the car will arrive next year so I am a bit confused.


Neutral Newbie
Joined: 22 March 2010
JulesK
18-Jul-2012
Hi Smartsoh, yes, we can expect the car to be here at the end of the year. Do keep a lookout for it!


Neutral Newbie
Joined: 18 July 2012
Smartsoh
18-Jul-2012
We can buy the new A class at the end of the year? :)
« Back ( ) Next »