Road Test - Honda Civic Hybrid 1.5 (A)
08 Mar 2012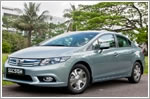 The new Civic is the second generation to receive hybrid treatment, now boasting more advancements than its standard petrol siblings.
Text by Nicholas Low, Photos by Julian Kho & Nicholas Low | 33,414 views | Honda Reviews
Road Test - Honda Civic 1.6 (A)
06 Mar 2012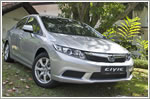 The ninth-gen Civic rides the tide change by adopting eco-biased features, packing more substance into a relatively smaller package, with a conservative outlook.
Text and Photos by Nicholas Low | 48,095 views | Honda Reviews
Comparison Test - Honda Civic Mugen RR and Civic FD2 Type-R
04 Nov 2008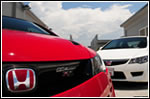 Quite some time ago, I went on a trip to the Czech Republic, where we went around hunting for alcohol in the wee hours. We found a bottle of Glenfiddich "Ancient' Whiskey, distilled 18 years ago, on s...
Text by Amery Reuben, Photos by Adrian Wong & Amery Reuben | 132,047 views | Comparison Reviews