Maserati's first ever entry into the highly-competitive premium SUV market is a decent effort that shines in performance and luxury.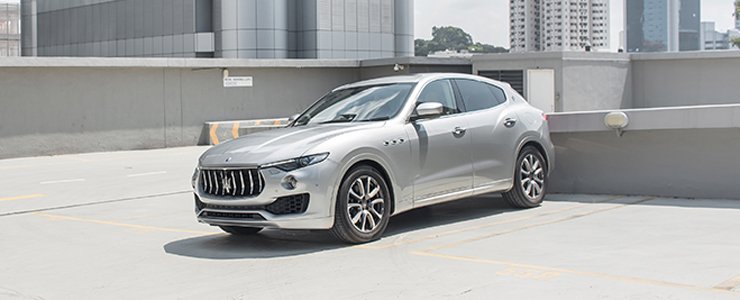 Every carmaker worth its salt has to have a Sports Utility Vehicle (SUV) in its lineup these days in order to stay relevant. Even those who are not known for their prowess in producing high-riding off-road vehicles have taken the plunge, such is the boom in demand for SUVs in today's market.
A couple of decades ago, it would be extremely hard to imagine a high-end luxury carmaker coming up with an SUV product. But we have seen the emergence of the likes of the
Porsche Cayenne
, the
Jaguar F-PACE
and the
Bentley Bentayga
, to name a few, so having an SUV is no longer a taboo, but a de rigueur for brands nowadays.
The latest to join the fray is the Maserati Levante, which comes from a carmaker more well-known for its sleek sports cars like the
GranTurismo
, and high-performance luxury sedans like the
Quattroporte
and the
Ghibli
. How does the first-ever SUV from this Italian brand stack up then?
Shark-nosed aggression
The Levante is distinctive looking. Its sharp looks, with its aggressive-looking nose, almost mimicking that of a shark, makes it a real head-turner. Its sleek, curvy body does well to hide the bulk of the car, and it's hard to tell that the Levante is actually quite sizeable.
The measuring tape reveals that it is longer and wider than one of its key rivals, the Porsche Cayenne, and the Levante boasts of a wheelbase that is over three metres long. It also sits lower to the ground, giving it an almost sports car-like stance that only serves to enhance its aggressiveness.
All of these combine to give the Levante a look that is less utilitarian SUV and more sharply-suited luxury car that just so happens to fall into an SUV-like shape. Certainly, the Levante would be the premium SUV of choice for those who place a high value on style.
Lap of luxury
One expects nothing less than top-notch luxury in the interior of every Maserati, and the Levante delivers in that aspect superbly. The fit and finish of the cabin materials are of high quality, and everything feels premium and nice to the touch. You just can't help but feel special whenever you step inside the Levante.
The infotainment system however, dubbed Maserati Touch Control Plus, does feel a bit iffy to operate. While the 8.4-inch touchscreen display is clear and responsive, there seems to be too many functions incorporated within. Operating a simple function like changing radio stations requires a bit of time as you navigate through the numerous icons on the menu page that all look rather similar to one another.
Only the air con and ventilation controls have their own set of button controls located right under the display.
At the back, the Levante's extra long wheelbase means that rear passengers too can indulge in the lap of luxury, with plenty of legroom for occupants to stretch out and relax. And the boot space is equally impressive, with a large 580-litre cargo capacity that can accommodate a full weekend's worth of travel luggage for five.
Maserati has done well to equip the Levante with plenty of premium features, with a long list of standard equipment including adjustable air suspension with variable ride height, intelligent all-wheel-drive and automatic hill descent.
Our test car here comes with the optional $40,000 Sports Pack, which throws in extras such as the adaptive cruise control, surround-view parking cameras, brushed stainless steel pedals, paddle shifters, 20-inch wheels and coloured brake calipers.
Horsepower
:
202kW (271 bhp) / 4000 rpm
Torque
:
600 Nm / 2600 rpm
Transmission
:
8-Speed (A)
Acceleration (0-100 km/h)
:
6.9sec
Fuel consumption
:
13.8 km/L