23 Jul 2010 | Text and photos by Julian Kho
A Box of Unlimited Possibilities
The spacious cabin and ample storage room prove that the all-new NV200 isn't just another box vehicle. As far as I'm concern, no other compact van can carry so much while looking good at the same time.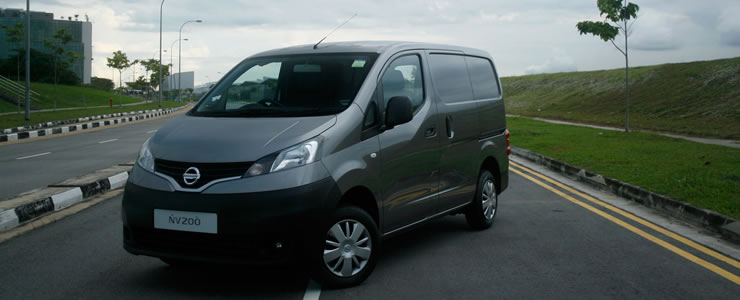 Although it's not as powerful and quick as compared to its competitors when it comes to a leisure drive, the Nissan NV200 is a versatile van that can tackle long journeys with ease. But alike all vans, the priority isn't much about the speed or power. It's the versatility and space that attract buyers and small business owners alike.

To begin with, the van has an extremely compact dimension - 4.4 metre long, 1.86 metre tall and 1.69 metre wide. With measurements like this, the vehicle is a do-it-all magic box because its compact size gives no indication to the considerable interior passengers and load carrying space it offers. Not till you load up its trunk will you realise the potential this van has.

The NV200 is a useful choice and with a cargo space like that, Nissan may have just created a top-selling van with limitless possibilities.

Exterior

Throughout the creation of NV200, attention has been paid to ensure the highest levels of quality with shut lines and panel gaps go in line with the expectations of passenger car buyers. It has a 524mm cargo floor height, which is the lowest in its class, allowing business owners to load and unload goods with much ease.

I reckon the NV200 is designed from the outset as both a commercial and a passenger vehicle. Simply because the front-end design looks nothing like the usual vans you'd see on the roads. If the designers had that in mind while sketching out the van, they have definitely hit the spot because it has a strong resemblance of an SUV.
The front fascia is thick and huge, while headlamps are swept backwards in an elegant manner giving it a swank and muscular appearance. The large air intake fills up the front bumper and is accompanied by clear rounded fog lights on either side, presenting the van with a touch of style.
In terms of entry and exit design, the NV200 comes with a pair of ordinary sliding side doors as standard along with the usual side-hinged doors at the rear.
But round the back is where the magic happens.
Despite the very ordinary square look like most vans, this one seems bigger and taller. This isn't exactly a bad thing, given the fact that more things can be fitted in which is the primary responsibility of the NV200. Rear lights are interestingly shaped and the prominent chromed NV200 logo shines proudly.
There are more visually arresting small vans on the market than the NV200 but once the scaled down van design was settled upon, it seems destined to be a vehicle of the plain and practical persuasion.
Engine Type
:
4-cylinders in-line Turbo SOHC
Transmission
:
5-speed (M)
Acceleration (0-100 km/h)
:
-
1 Comment


Neutral Newbie
Joined: 04 June 2010
Errant11
26-Jul-2010
Nice article, but i do wish sgcarmart would stop using the term "outlook" to denote the appearance of a vehicle. The word refers to a perception or as point of view (present or future), and ... Read more
« Back ( ) Next »