03 Nov 2011 | Text by Ben Chia, Photos by Zachary Lau
Orlando Magic
The Orlando is Chevrolet's first MPV to be sold globally, and it promises to be fun for the family.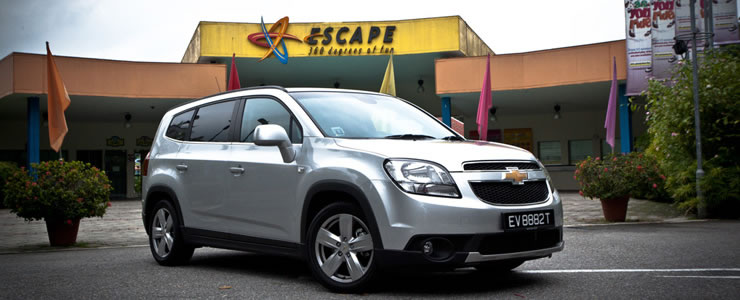 Orlando. A name that conjures up images of sunny Florida beaches packed with young people, and theme parks such as Disney World and Sea World.

It certainly isn't a name that one would associate with a bread-and-butter people carrier, but that's the name that Chevrolet has bestowed upon its new MPV offering.

Maybe it isn't that far-fetched after all. Perhaps Chevy wants people to imagine travelling in the Orlando, family in tow, all the way to sunny Florida. The quintessential American road trip maybe.

Yet bizarrely, the Orlando won't be offered for sale in the US, but will be available in the rest of the world. Strange marketing strategy that, considering how popular these people carriers are in the States.

Nevertheless, the Orlando has made its way to Singapore, and we find out how it fares in a tropical environment of a different kind.

Exterior

Design is a subjective thing, especially for a functional product like an MPV. It is very hard to strike a balance between purposeful practicality and striking style when it comes to designing people carriers.
The Orlando leans slightly towards the former, with its chunky shape probably coming across as a touch conservative. It is unlikely to offend, but neither does it excite.
The trademark Chevy grille, seen on recent products such as the Cruze, Spark, Aveo and Captiva, makes an imposing appearance on the Orlando, while the high waist line leads to a rather masculine-looking rear end. Some may even liken the rising window line to a BMW, although the comparison might be a bit of a stretch.
One thing you can't deny is that the Orlando is fairly sizable, measuring in at 4,652mm long and 1,836mm wide. While it doesn't feel that big from the inside, thanks to its expansive glasshouse, it does pose a bit of a problem when manoeuvring through tight car parks.
Engine Type
:
4-cylinder inline DOHC VVT
Horsepower
:
141 bhp / 6200 rpm
Torque
:
176 Nm / 3800 rpm
Transmission
:
6-speed (A)
Acceleration (0-100 km/h)
:
11.8sec
1 Comment


4th Gear
Joined: 11 August 2003
Paddie
4-Nov-2011
I would much rather buy Peugeot 5008 or VW Touran at the same price.
« Back ( ) Next »