01 Jun 2012 | Text and Photos by Nicholas Low
Scaling Greater Heights
Infiniti's FX creation aims to put the brand in the forefront of luxury performance, coupled with unparalleled on-road presence.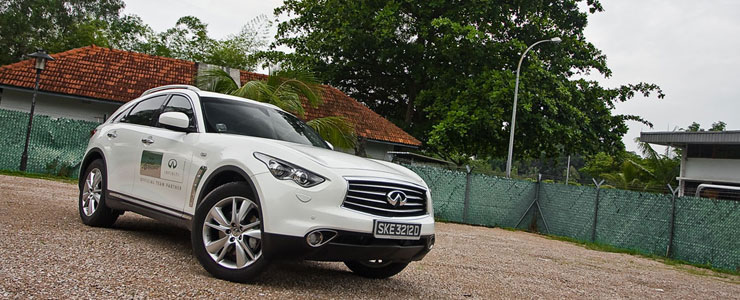 Back with a bang - the FX is no doubt the most recognisable in the stable when Wearnes Automobile brought the Japanese luxury carmaker back onto our local shores. It seems that the re-entry of the brand to the local market is well-timed too, just as its offerings adopt bold, curvaceous styling cues (Infiniti, like many of its competitors, begin life as metal boxes on fours).
Not many have come close to the looks of the biggish SUV you see here. Unsurprisingly, the FX's creation was aimed initially at the American audience. Since its debut, it has been dubbed as one of the most iconic offerings bearing the Infiniti badge - securing its place in the history books of the carmaker.
Exterior
Up close, the FX resembles more of a 'muscle SUV', with raucous taunts of its sweeping curves on its front bonnet. Inevitably inviting stares, it commands a distinguished presence on the road - immense just like the Rangies, albeit in a more serpentine form.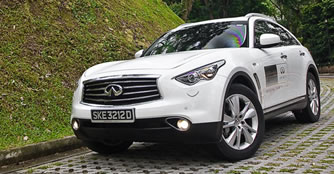 The bulbous front-end will leave many in awe of its sheer size
On the road, the FX family feels almost out-of-place with its colossal proportions. At almost 5 metres long and 2 metres wide, it would instantly stand out in any carparks - dwarfing even the average crossovers.
Relinquishing on its loud front fascia, the rear end receives a slightly reserved treatment, looking more rooted and squat. The larger-than-life twin tailpipes, however, serves as a reminder of the hidden potential under the front bulge.
Despite being one-size smaller than those found on the range-topping FX50, the 20-inchers found on our test car are nothing you will call diminutive.
Transmission
:
7-speed (A)
Acceleration (0-100 km/h)
:
6.8sec