08 Jun 2012 | Text and Photos by Julian Kho
GS at its Purest
The Lexus GS has evolved from its predecessor, making it a bona fide sports sedan that does not compromise on comfort, space and luxury.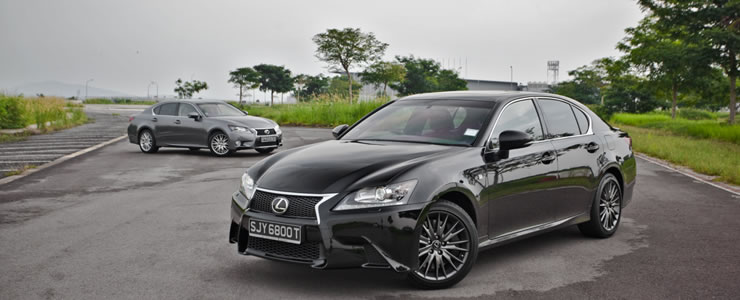 The first generation GS began in 1993, introducing the Japanese brand into the unsympathetic luxury segment. It wasn't until 98 when the second generation, using a new platform, saw daylight. That was also the time when Lexus incorporated a V8 engine for the first time outside the Ramen ground. But it was the third generation GS that set the benchmark for Lexus, breaking new grounds for the Japanese marque, and sending it straight to the likes of BMW and Mercedes-Benz, thanks to its powerplant variations which included V6, V8 and hybrid versions.

The fourth and latest generation GS that you see here was only premiered last year in California at the Pebble Beach Concours d'Elegance, an annual automotive charitable event. Considering it to be the most prestigious event of its kind, it fits the bill of the 2012 GS, making it a rather compelling case to opt for the Japanese brand rather than a European class.

The current model, like its predecessor, is available with a variation of engines, although only V6 powerplants are accessible in Singapore for now. Where it differentiates itself, though, are the emphasis on its performance and handling over its immediate predecessor and its attitude. Despite not having the kind of deep heritage that the Germans so often and proudly highlight, Lexus never once disappointed the public. And the carmaker certainly isn't going to start with this GS.

Exterior

The front fascia is indeed aggressive. Fans of Lexus are bound to love the bold new look of the GS, especially younger drivers. Unlike previous generations of GS, the updated model takes certain cues from the smaller CT200h and has mutated the front end to form an hour-glass body. This L-finesse design philosophy has created a 'spindle' that will be the forefront of Lexus future models in the next few years.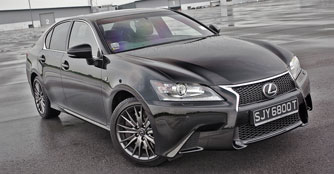 The F Sport bodykit sharpens the car's face, adding further aggression
Equipped with the F Sport bodykit, the test car - complete with size 19 shoes - looks sharp, if not bold. It immediately strikes as a seductive machine that sports the combination of upper and lower grilles into a single element, flanked by brake cooling ducts by either side ends.
Engine Type
:
V6 24-valve DOHC with Dual VVT-i
Horsepower
:
316 bhp / 6400 rpm
Torque
:
378 Nm / 4800 rpm
Transmission
:
6-speed (A)
Acceleration (0-100 km/h)
:
6sec