11 Jun 2012 | Text & Photos by Nicholas Low
Ascend to Powers
Ford's flagship sedan gets a small dose of power boost, putting ease to its urban sprints and adding woes to the rivalling offerings.
Judging from numerical evidence, it is not hard to tell that Ford hasn't been the most popular marque in town. While the local motorists are starting to open up to the less mainstream manufacturers (think Citroen & Peugeot), there should be no controversy on the build quality of the offerings from this American marque.
The flagship sedan from Ford was facelifted a year back. Its latest iteration would be best described as an 'engine improvement', with the 2.0-litre EcoBoost tweaked to deliver more horses and torque, yet without compromising on fuel economy.
Exterior
In plain sight, there is no distinction that will give a hint of its powerplant upgrade over its predecessor. The Mondeo still has that pleasant, soft approach on aesthetics. Though dimensionally bigger than its rivals in the continental segment, the car feels more subtle when it comes to on-road presence.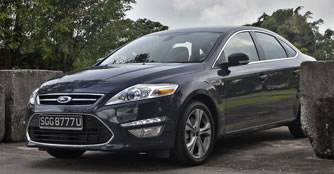 New model retains aesthetic qualities from predecessor
The Mondeo incorporates a relatively different interpretation of daytime-running LEDs - an elongated strip running above the fog-lamp at each flank. Without integrating into the main headlamps, the stand-alone pieces do give an impression of a 'last minute' add-on.
The rump, on the other hand, does a better job at hints of modernisation. The flowing tail lamps draw attention to the arched boot styling, a departure from the conventional square framings.
Engine Type
:
4-cylinders 16-valves Twin Variable Cam Timing Turbocharger
Horsepower
:
240 bhp / 6000 rpm
Torque
:
340 Nm / 3500 rpm
Transmission
:
6-speed (A) Powershift Dual-Clutch
Acceleration (0-100 km/h)
:
7.5sec
2 Comments


Neutral Newbie
Joined: 12 June 2012
Jetlag
12-Jun-2012
I think what the writer was saying is the Ford as a brand itself. Not so much of the Ford Europe Division. So he's technically correct.


Neutral Newbie
Joined: 21 February 2012
Lwh
12-Jun-2012
Hello? Editor... Although this is an American marque but the build quality is all thanks to Ford Europe Division not America's.
« Back ( ) Next »