13 Jun 2012 | Text and Photos by Julian Kho
Evocative Dynamism
The smallest and youngest Range Rover turns heads wherever it goes - no wonder it has customers scurrying for one and has bagged so many awards.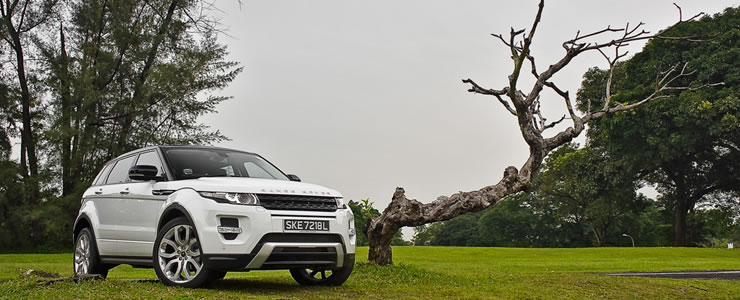 This is a small Range Rover with a big mission.

The Range Rover Evoque, or baby Rangie, as we've affectionately dubbed it, is not only the smallest, lightest, and most fuel-efficient vehicle the English marque has ever created. It's also, undoubtedly, the most attractive and stunning car that has rolled out from its factory.

Targeted at the younger and more fashion-conscious audience (do not think Victoria Beckham, please), the Evoque goes head to head with the BMW X3 and the Audi Q5 in Singapore. While both Germans may have an edge over the English in terms of its technology and drivetrain, the Evoque is a handsome machine that offers something the German lads don't - serious on and off-road capability.

However, we get the feeling that owners of the smallest and latest Rangie won't be lugging the compact SUV on rumbling rocks and grass patches, although we're pretty sure they'd like to think they could (we really can't because of the lack of land). While the rest of its bigger and boxier brethrens had their designs focused for off-road use, the baby Rangie features a more modern unibody construction technique for improved handling and ride quality, and to appeal to buyers who drive primarily on the road.

Exterior

The concept model of the Evoque was unveiled back in 2008 at the North American International Auto Show with the aesthetics of the production car you see here sporting minimum changes from the concept car. As a result, like most concept cars, the Rangie immediately draws attention to itself. Drive this car anywhere and heads will turn.
Although it was spawned from the Freelander 2, the Evoque is shorter, lower, and distinctly wider, lending a little brawn to its appearance while its rising beltline and rear-sloping roof give it a sporty silhouette. The Evoque further strengthens itself as an eye candy as it offers contrasting roof colours, making the rest of the cars in its segment seem ho-hum.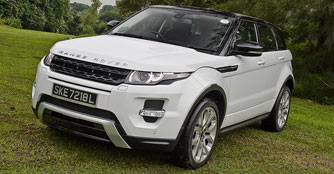 Sport bumpers and black-coloured grille differentiate the Dynamic version from the less sporty Prestige and Pure versions
Engine Type
:
4-cylinders in-line 16-valves DOHC Turbocharged
Horsepower
:
240 bhp / 5500 rpm
Torque
:
340 Nm / 1750 rpm
Transmission
:
6-speed (A)
Acceleration (0-100 km/h)
:
7.6sec