20 Jun 2012 | Text and Photos by Nicholas Low
Mechanical Romance
The Giulietta is Alfa's vanguard in pursue of better efficiency and technological advancements.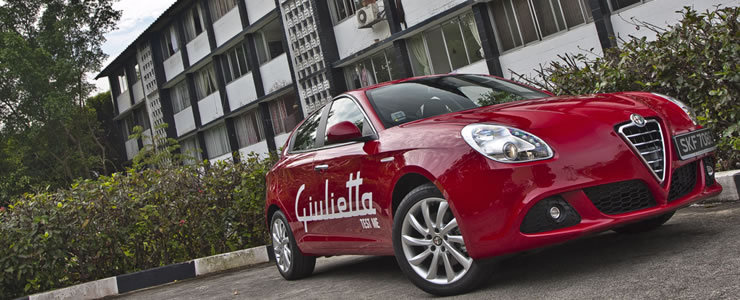 There are few more enigmatic, or should we say characterful marque than Italian carmaker Alfa Romeo. Since its start-up, the brand has garnered a strong following around the globe. One of its key attributes were the colourful styling, blessed by renowned Italian styling houses that has been commissioned to produce sketches for its production models (think Bertone, Pininfarina etc).

While the marque has been less consistent lately, to some extent, in churning out cars for the masses, it has not been completely off the radar. Not too long ago its supercar 8C left countless in awe, inviting an equal amount of debates on its controversial styling.

Latest in its stable is the Giulietta, meant to replace the long-overdue 147. We sample the hatchback to see if it is better late than never.

Exterior

Alfa's latest takes on a more spherical outlook, with more rounded edges overall. There is also a slight tinge of shadowing from its supercar stablemate - the 8C. Credit where it is due, Alfa Romeo is one of the few marques which can put off a non-symmetry appearance on its offerings. Essentially, it is also the 'lopsided' front end that best presents the car's character.

Arguably, the hatchback isn't as pretty as its end-of-production stablemate (the 159). That is not to say the latest offering from Alfa Romeo is any less stylish.
Engine Type
:
4-cylinders in-line Turbocharged
Horsepower
:
170 bhp / 5500 rpm
Torque
:
250 Nm / 2500 rpm
Transmission
:
6-speed (A) DCT
Acceleration (0-100 km/h)
:
7.7sec