27 Jun 2012 | Text and Photos by Azfar Hashim
Lucky Strike
An affordable BMW for once? Well the 116i is not only that - it also shows how Munich is still capable of providing a car that's more than just a one segment filler.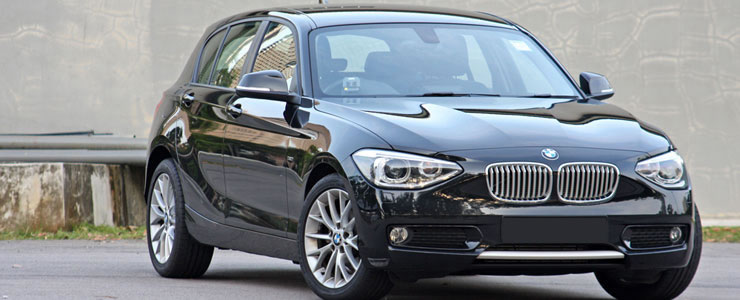 The default choice, when it came to premium hatchback, used to be the Volkswagen Golf. With three different models - 1.2 TSI, 1.4 TSI and 1.4 Sport TSI - to choose from, you can never go wrong.

Then there was also Audi's A3, the perennial favourite among the young executive who wants something with extra prestige.

Well BMW had (yes, h-a-d) a contender in this segment, in the form of the 118i, but that one was a forgotten and unloved model; most found it underwhelming and scarcely equipped...

BMW's 3, 5, 7 Series and X5 might be runway successes, but in this hatchback segment, it's still considered a 'newbie'. Which was obviously the reason why BMW made sure their latest F20 1 Series is a good one (no pun intended).

While the 118i was already reviewed previously, this time around, it's the entry-level 116i's turn.

Exterior

Many car designers also have this preoccupation with size, especially when it comes to hatchbacks; after all, a big exterior leads to a vast, cavernous cabin.

Thankfully, BMW's designers are much more skilful with their felt-tip pens. The side profile, with its delicately sloping roof, has a touch of Z4 about it while from the back - ok, you can quit the VW-called-and-asked-for-the-Polo's-rear-lamp-back joke now already - it has cues of the much, much bigger X5.

17-inch alloys, wrapped in performance-biased 205/50 R-17 Bridgestone Potenza S001 rubbers also come standard, giving the 116i a slightly sporty edge.
It all goes to make a much more beautiful and stylish car than its predecessor.
While the 116i - also like the 118i - doesn't get a badge on the boot, the only way to differentiate the two from each other is by looking at the lower part of the front and rear bumper: the 118i would come with a black strip, while the 116i with white.
Engine Type
:
4-cylinder in-line DOHC BMW TwinPower Turbo with Twin-Scroll Turbocharger
Horsepower
:
136 bhp / 4400 rpm
Torque
:
220 Nm / 4300 rpm
Transmission
:
8-speed (A) Steptronic
Acceleration (0-100 km/h)
:
9.1sec