09 Jul 2012 | Text and Photos by Nicholas Low
Leader Incarnation
Toyota's vanguard in the mid-size sedan market brings new luxury to the masses.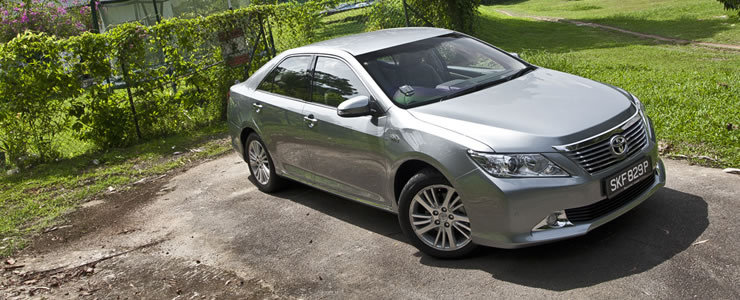 There is no point denying it: Albeit the dent cast by its hefty recalls, Toyota still remains as one of the world's most well-received carmaker. The marque may have left a void in its sporting division (which was filled up recently by the 86), but the same could not be said for their people-carrier arm.

Take the previous Camry for instance - the car was a global success, not to mention a big hit on local roads. Genuinely well-prepositioned against its rivals, few could negate its strengths as a true-blue Japanese engineered icon. The Camry was also one of the first few in its class to come packed with HID lamps - a novelty in those days.

Exterior

The new front receives a bulging front bonnet - a steroidal treatment, akin to that found on American offerings (think hunched Camaros and Corvettes). The elevated bonnet moulding may raise brows at first glance, but the car does its bit to portray a more commanding presence.

The rump too, is not spared from the boxy transformation. While the front fascia seems a tad too clunky from certain angles, the rear manages to remain sleek, thanks to its stretched tail lamps across the width.
Works on its flanks, though, are more subtle, bland to say the least. Nevertheless, inherent from how its predecessors were, designs of Camry were never meant to shock the world, or exciting in that sense. Instead, its target market would (or perceived to be) in favour of a matured, understated outlook, where functions take precedence over form.
Engine Type
:
4-cylinders in-line DOHC Dual VVT-i
Horsepower
:
181 bhp / 6000 rpm
Torque
:
231 Nm / 4100 rpm
Transmission
:
6-speed (A)
Acceleration (0-100 km/h)
:
9.7sec