13 Jul 2012 | Text and Photos by William Whey
Audi's High 5
Despite the smaller and more fuel economical engine, the new model is faster while its looks have been brought up to date with the rest of the Audi range.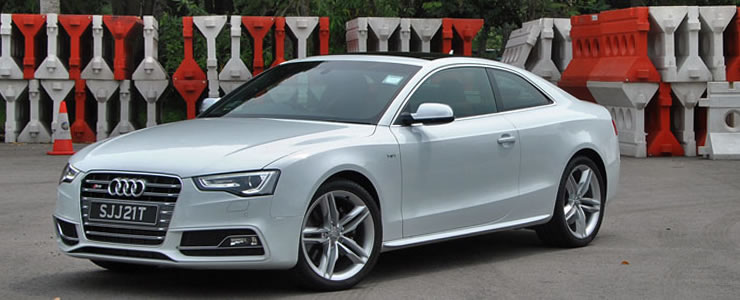 Unlike its prestigious German competitors BMW and Mercedes-Benz, Audi is the only brand that offers two separate line-ups of performance models. There's the RS range, Audi's equivalent of BMW's M and Mercedes-Benz's AMG cars.

And then there's the S line of performance cars. The S variants bridge the gap between Audi's regular models and the supercar slaying RS cars. Bar the Q3 and Q7 SUVs, R8 and A1, each Audi model range from the A3 to the A8 features an S model. Heck, even the Q5 SUV hasn't been spared the S treatment - Audi recently showed off the hot SQ5, powered by a BTDi twin turbo diesel V6 motor. There are also rumours that a S1 variant is in the works.

One of the most popular S models out there is the BMW 335i rivalling S5 Coupe. Previously, the S5 Coupe was powered by a muscular 4.2-litre V8. With the recent facelift of the entire A5 range, Audi has shoehorned the S4, S5 Cabriolet and S5 Sportback's 3-litre supercharged V6 under the S5 Coupe's bonnet, thus downsizing its motor by more than 1,000cc.

The A5/S5's designer, Italian Walter de Silva labelled it as the most beautiful car he's ever penned. He is no young punk designer that has just started out mind you - he is the man responsible for timeless classics like the Alfa Romeo 156 and 147.

Exterior

The updated S5 can be instantly recognised by its highly revised front end which brings the coupe's looks more up to date with more contemporary Audi models like the A6. The redesigned single-frame grille features chamfered edges and has a more thrusting look while the headlamps feature a new shape and new LED daytime running lights that mimic the recently updated A4's.
The changes are less obvious at the rear - the new model sports just new tail lamps.
As previously, the S5 is differentiated from lesser A5s by a deeper front spoiler and the S5 badge on the signature 'S' metallic grey egg crate style grille inserts.
Along the flanks, the S5 is distinguished by the V6T badges that replace the V8 ones on the old car, deeper skirts and the aluminium look door mirrors. At the rear, the S5 sports a lower bumper in metallic grey as well as the signature 'S' quad exhaust tips.
Transmission
:
7-speed (A) S-tronic
Acceleration (0-100 km/h)
:
4.9sec