16 Jul 2012 | Text & Photos by Nicholas Low
Coupe de force
The A5 Coupe receives a well-deserved refresh package to keep it within arm's length of its competitors.
Nobody needs a sports car. Period.

You read this, and then you recall fondly (that is if your college days aren't too miserable) that there was such a person by the name of Maslow who came out with a hierarchy of needs. At the top it states 'self actualisation'. And you start to convince yourself that a sports car would fit the need of your highest self-esteem realisation. Sounds like mid-life crisis?

In any sense, any metal boxes on fours bearing the quad chrome rings will be princely perceived, especially one with a singular cabin entrance on either side.

We take a closer look at the base coupe variant of the A5 family.

Exterior

With our local roads awash with premium offerings, the A5's subtlety are distinct (no pun intended), especially when coated in a less attention-grabbing silver. It is in this tone however that the coupe's refined lines are most obvious, following through the bonnet to grace the flanks. Running your fingers through the creases allow one to further appreciate the clean, unadulterated styling cue of the coupe - an attribute that we have grown to love about iconic coupes.
The most distinctive change noticeable by the naked eye has got to be the daytime-running lamps. The trend-setter in the business, and arguably still the best running, the lamps exude a unique aura. But even so, it is still quite hard to tell the facelifted model apart from its predecessor, be it day or night.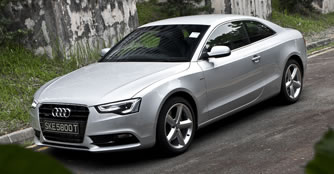 Audi's 2+2 retains a clean, simple yet modernistic styling
Engine Type
:
4-cylinder in-line DOHC Turbocharged
Horsepower
:
211 bhp / 6000 rpm
Torque
:
350 Nm / 4200 rpm
Transmission
:
7-speed (A) S-tronic
Acceleration (0-100 km/h)
:
6.5sec