18 Jul 2012 | Text and Photos by Julian Kho
Machismo Mercedes
The latest Mercedes-Benz M-Class brings with it fresh styling, excellent refinement and acres of space, making it one helluva package to beat.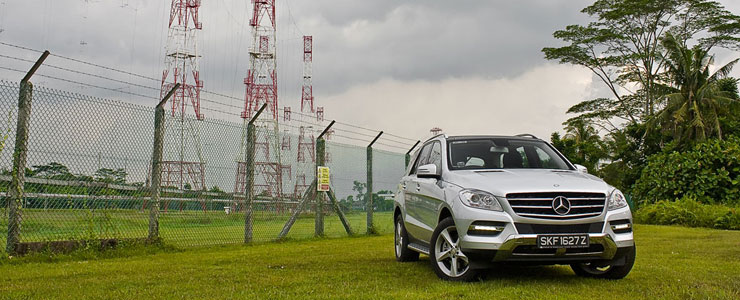 When it comes to describing big, chunky SUVs, words such as 'performance' and 'nimble' can be as incompatible as 'elephant' and 'ballet'. And if we're in a rational state of mind, we would often stand correct. Then out of the blue, chariots like the BMW X5 and Infiniti FX50 trots along and we are suddenly thrown out from left field, leaving us stranded in disbelief.

The Mercedes-Benz M-Class, on the other hand, doesn't do that. Instead, as a stylish and rapid way of transporting loads of baggage and groceries, this steroidal-pumped SUV doesn't leave us hanging. It behaves exactly how we would have expected it to behave (on and off-road) and maintains the kind of charismatic charm just enough to get heads turning and having envious whispers amongst the casual passerby.

Exterior

The third and latest generation M-Class is now more chiselled and handsome, with its sharp and sculpted edges and well-defined lines. Rather than 'renovating' the SUV, Merc 'refined' it, tweaking the headlamps (with daytime running lights now), foglamps and having a more distinct and aggressive grille. You just cannot deny the fact that the design and style of the huge car makes this Mercedes instantly recognisable as an M-Class.

Sharing a similar platform with the Jeep Grand Cherokee, the M-Class still looks the same when viewed from the back. You will need more than just a keen eye to spot the subtle differences on the butt, where separated horizontal lines can be seen, giving it loads of on-road character.
What's good about this car is that it takes off positively. Standing at 4804mm x 1926mm x 1758mm (L x W x H), the big M looks the part of a luxurious SUV where you cannot help but to stare at it without feeling it's snobbish. Loyal followers of the M-Class may reckon that this car resembles too much like the E-Class, failing to give it a beefy appearance. But in a time where carmakers are standardising a new face throughout the models in their stables, we reckon this look could achieve a sense of recognition for the car and should have no qualms in appealing to a wider audience.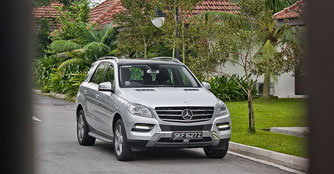 Taking styling cues from the current E-Class, the big M looks elegant
Acceleration (0-100 km/h)
:
7.6sec