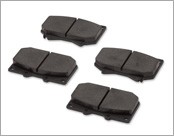 Brake Pad
Brake pads provides the brunt frictional force necessary to stop the car. In a disc brake system, the brake pedal activates a hydraulic line, which squeezes the calipers against the rotors of the car's tyres. Pads are positioned between the calipers and the rotors to absorb the energy and heat to provide enough grip to stop the car. There is a need for brake pad replacement when you experience reduced braking ability, low brake pedal height, longer stopping distances or unusual noises. These are signs that the brake pads are wearing out.






















EBC Redstuff
Category
:
Repair & Maintenance, Brake Pad
Redstuff pads reduce dust approximately 80 percent compared to OEM pads and less dust also means less rotor wear, resulting in longer-lasting rotors.