This is an old car model that is no longer for sale by the local distributor since Jun 2023.
Toyota Alphard Hybrid 2.5 Elegance (A) Facelift Review
Desmond Chan, Photos by Low Fai Ming | 13 Jul 2022 | Toyota Reviews
A hybrid powertrain brings added efficiency and refinement to the specifically appealing Toyota Alphard experience.
Facelift (What's New)
2.5-litre hybrid powertrain with electric all-wheel drive
Toyota Safety System Package
Digital rear view mirror
Sequential turn signals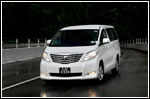 06 Nov 2009 | | Toyota Reviews
He likes his coffee cold and in a bottle, prefers in-car entertainment in the raunchiest of fashions, preferably with a female. In the long-run, fathers something like fifty-six children. Oh...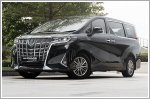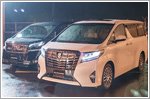 Topic Title
Replies
Last Action