| | | |
| --- | --- | --- |
| | Sold by | Parallel Importers | 6 dealers |
| | Built in | Japan (launched 2005) |
| | Variants | |
Get the dealers selling the Toyota Hiace High Roof Diesel to contact me with their best deals.
12.2km/L
136bhp
11.8km/L
149bhp
Tel: 64673300 / 64673300

Tel: 63863322 / 90180303

Tel: 62665858 / 92335858
Showing 6 dealers selling this Toyota Hiace High Roof Diesel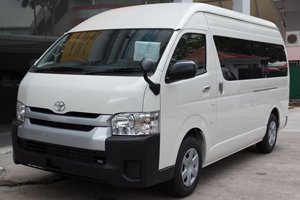 Toyota Hiace High Roof Diesel
3.5 stars - based on 3 reviews

I ever rent this car for excursion. Exterior is good, interior is good. I have no complaint. Too bad in Singapore the price is very high..
Read More »
This mini bus is not bad as I can say. Worth the money. And as the diesel in Singapore I find it ok. Now I pump SPC diesel so far so good and is powerful also. But some say the exhaust keep on having problem, but for me is so far so good as I can say.
Read More »
| | |
| --- | --- |
| | Most problematic Toyota I ever owned. |
The Euro4 exhaust, design comes with the Dust Particulate Filter (DPF). It keeps getting plugged up causing the Electronic Computerised Unit (ECU) to perform DPF "force burn" sequence automatically but the butterfly valve located in the exhaust pipe keeps jamming up and sends signal to the ECU that its not in correct position, thus ECU limits the fuel supply, preventing the vehicle from travelling at normal speed. In order to clear the DPF, manual "force burn" have to be done in a workshop. And this problems keeps repeating. Each manual "force burn" cost me about $150.00 plus some 4 hours lost of use. The workshop blamed the plugging of the DPF to the high sulphur content in the diesel, and said, Spore fuel stations have not comply to Euro4 diesel standards yet.
Read More »


Topic Title
Replies
Last Action