| | | |
| --- | --- | --- |
| | Sold by | Parallel Importers | 2 dealers |
| | Built in | Germany (launched 2016) |
| | Variants | |
Get the dealers selling the Mercedes-Benz GLE-Class Coupe to contact me with their best deals.
11.2km/L
329bhp
11.2km/L
329bhp
10.6km/L
385bhp
Tel: 62506696 / 96375329

Tel: 68422222 / 97966622
Showing 2 dealers selling this Mercedes-Benz GLE-Class Coupe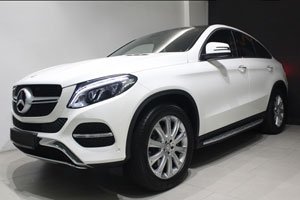 Mercedes-Benz GLE-Class Coupe
4 stars - based on 1 reviews



Saw this super fierce looking SUV and had to have a go in it. Visually, it is no doubt very striking and aggressive. I'm not sure if i really like it, but i can see the appeal. It's definitely very sporty, almost un-SUV like. Cuts an extremely imposing figure on the road. inside, its what i expect from a merc. Quality materials all around, a ton of technology everywhere. Its not the most spacious of cars though. One reason is the sloping roofline, which while makes the cut cut a very impressive figure on the outside, does compromise headroom on the inside. it does drive well though. The engine is powerful, and despite the car's size and weight, carries the car briskly. Handling is quite good also, again considering its size. The car definitely strikes one with confidence, because you sit quite high up, almost towering over other cars on the road. it's a slightly perplexing car to me, in the way it tries to straddle two quite different categories, but i can definitely see it appealing to some drivers.
Read More »