| | | |
| --- | --- | --- |
| | Sold by | Parallel Importers | 1 dealers |
| | Built in | Germany (launched 2017) |
| | Variants | |
Get the dealers selling the BMW M Series M2 Coupe to contact me with their best deals.
12.6km/L
410bhp
Showing 1 dealers selling this BMW M Series M2 Coupe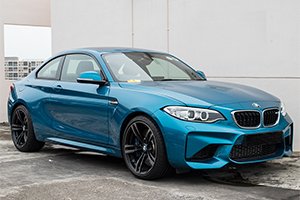 BMW M Series M2 Coupe
4.5 stars - based on 2 reviews
What We Like

Handsome, muscular looks

Precise and responsive steering

Sublime agility

Provides endless driving joy and excitement

Pick of the current M lineup

What We Dislike

Niche and quite pricey

AMG engines sound much better

Can't fully appreciate the car's immense capabilities if you don't take it to the track


This is the most touted BMW of the year and it does not fail to deliver one bit. Having previously owned the BMW 335i with a N55 engine that was heavily modified and pumping out 370 bhp whp (dynoed) I was a little concerned about buying a car with the same engine and HP. Boy was I proven wrong. This car is a complete package. From M4 mecahnicals to trim line, handling and performance I am over the moon. It is an eye turner and fantastic M car. Theride is firm but enjoyable enough as a daily driver. It comfortably sits 4 adults and is a practical sports car.
Read More »
Had a very short stint in this car, but it definitely left a big impression on me. Love how it looks, very aggressive yet still looks compact. Inside its comfortable yet sporty. Rear seats are actually quite okay, but must sit very upright. Decent boot also. the engine is really really sweet, makes a great noise and pulls like hell. Steering is very responsive and car feels very tight and grippy. Pity couldn't drive ti for longer.
Read More »