| | | |
| --- | --- | --- |
| | Sold by | Parallel Importers | 3 dealers |
| | Built in | Mexico (launched 2017) |
| | Variants | |
Get the dealers selling the Audi Q5 to contact me with their best deals.
13.5km/L
248bhp
13.5km/L
248bhp
Tel: 68358888 / 96375329

Tel: 64731119 / 92261119

Tel: 64650258 / 94553667
Showing 3 dealers selling this Audi Q5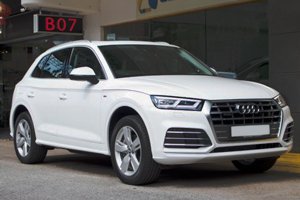 Audi Q5
4 stars - based on 1 reviews


| | |
| --- | --- |
| | Why I chose to buy another Q5 |
Having driven the previous Q5 for nearly 6 years, it was time to let it go for fear of further maintenance costs. Having made countless trips to the Ubi service centre, each time I left the car there for something to be fixed or replaced, I vowed not to return again to Audi. Perhaps not everyone can appreciate the reasoning, but there are always brand loyalists and good reasons for their existence. Clearly, there are many alternatives within the SUV class and beyond. In the process, all continental SUVs were considered, as well as cars such as Skoda Superb. On the Japanese side, there was Lexus, Toyota, Honda and Mazda and their various models to choose from. Perhaps you have to watch the video 'What does it take for a car to be an Audi" To know what I rnean. An Audi is just a bit more special than the rest in the same price range. Of all the 4WD available, quattro just seems most natural. The interior, virtual cockpit and the MMI exude class. So why back to Audi? Perhaps it's the customer service. Perhaps the quality just stands out a bit more. Everything works well in symphony within the car. I wouldn't necessarily recommend this car to just anyone. But ultimately it was difficult to choose anything else to replace my previous Q5. And the clincher? A really good deal offered to me was too hard to resist. Cheers!
Read More »


Topic Title
Replies
Last Action