| | | |
| --- | --- | --- |
| | Sold by | Trust Motoring |
| | Hotline | 93666621 / 82986966 / 64723025 |
| | Address | 24 Leng Kee Road Leng Kee Autopoint #03-01 |
| | Built in | Japan (launched 2016) |
| | Variants | |
-
25km/L
135bhp
Trust Motoring
Tel: 93666621 / 82986966 / 64723025
Updated: 21-Jul-2019

2 bid guaranteed COE without top-ups.


100% Loan for Personal and Private Hire Owners! We directly import from source, cutting out the middle-man. That gives you more savings. Call for viewing at our warehouse/showroom. Excess ready stocks to clear! Contact me directly with more info.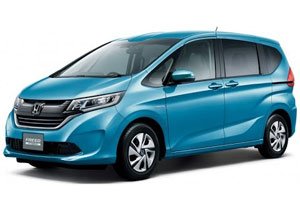 Honda Freed Hybrid Trust Motoring Edition
4 stars - based on 3 reviews

I think the Honda Freed Hybrid is the best mini MPV in its class. Why? -The exterior design is clean and fuss-free unlike the ugly Toyota Sienta. -The interior design is well laid out and has a zen-like quality to it. It is more spacious than the Sienta inside as well. Honda always knows how to create a practical and spacious interior which its competitors just can't emulate. - The 1.5L Earth Dreams engine paired with the Electric Motor gives this car a very decent acceleration from standstill which can surprise other road users. Together with the dual clutch transmission, the whole driving experience is better than expected from a 1.5L Hybrid car. - Typical Honda build quality means a very well built and solid car which can outlast the COE. Only complaint that it is everywhere now thanks to PHV scheme and the engine can feel slightly sluggish above 100km/h.
Read More »

| | |
| --- | --- |
| Better Interior Space and Power compare ... | |

Been driving Cat B Cars ( 2.4L above) for more then 15yrs, my previous car was 2008 vellfire. As i hardly use up the full space of the large MPV and every time when go for indoor parking, i need to look out the ceiling high too. So, i decided to scale down the size to a slightly smaller MPV, Viewed : - sienta, space and car response when overtaking with full load 7ppl. Not quite acceptable. - esquire and Noah - Above $130k selling price, and outlook not as stylish, feeling quite stiff and heavy on car response . - Voxy, price slightly below 130k, basic model can even go below $120. Space and Feeling quite good to drive, the only issue is the seating ratio is 2.2.3 , i need 2.3.2 . - Wish, Are the better choice, price 10k more then Freed, space quite the same as freed, but car responses is better then freed. * At the end, need to compromise between price and power. So i decided on FREED HYBRID. Over all for Freed, i prefer the hybrid model due to the gear knob, Custa LCD info, parking button ( Not foot brake, given u some space on foot) and engine more silence. Usually hybrid and non- hybrid car in market are 20k-30k difference. But now, with Gov grant its less then 8k difference. I strongly recommend this model for your consideration ( Honda Freed hybrid ).
Read More »


Topic Title
Replies
Last Action