| | | |
| --- | --- | --- |
| | Sold by | Parallel Importers | 1 dealers |
| | Built in | Japan (launched 2018) |
| | Variants | |
Get the dealers selling the Mazda Axela Diesel to contact me with their best deals.
21.6km/L
103bhp
Showing 1 dealers selling this Mazda Axela Diesel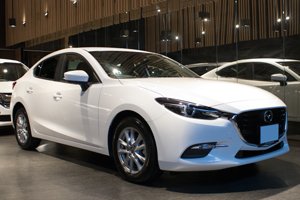 Mazda Axela Diesel
4.5 stars - based on 1 reviews

| | |
| --- | --- |
| | Zoom zoom, fun to drive, loaded with lots of tech, excellent FC and cheap diesel... |
Decided to scrap my lancer ex of 9.5 years old because the car parts start to break down 1 by 1. Looking for a car to do some part time private hire and also for my own sales job. Shortlisted the axela diesel because of its price and I believe this is the only diesel vehicle that doesn't require Adblue and still manage to get Euro 6 emissions ratings, plus a VES band A2 of $10,000 rebate. First time driving a diesel vehicle and I don't like the hybrids due to a bad experience with my first car which is a hybrid. Diesel clattering noise is only audible when standing outside beside the car bonnet. Once inside, I am surprised to hear nothing. Even my riders didn't realise it is a diesel engine until I told them. Mazda skyactiv D is the world's lowest compression diesel engine and because of low compression, the engine block weight, clattering noise and emissions are all reduced. Even the redline RPM is at 5000, quite high for diesel engine. Overtaking is a joy in this car. The 270NM of torque makes u fly away and smile when u see the cars behind getting smaller & smaller. Take note there is a turbocharger and u need to have a habit of letting the engine idle before shutting down, after using the turbo for prolong periods. My best FC currently is 20km/l for 90% Highway driving and worst FC is 14.8km/l (alot of city driving and having fun turbo charging everywhere). Do read up on Euro 6 engine, Diesel Particulate Filter (DPF) and turbocharger if u intend to buy this car. Don't believe whatever the workshop tell u. I encountered 1 with their mechanic telling me it is ok to use their Mobil One oil even though the bottle clearly states the oil is suitable for diesel vehicle without DPF. This car comes with tons of tech. Mazda radar cruise control (MRCC) let the car cruise at your selected speed and automatically slows down or accelerates base on the car in front. Blind spot monitoring. Lane departure warning. Rear cross traffic alert good when u wanna reverse from parking lot. 360 degree camera. Heads up display. Too many to list down.....
Read More »