Top Singapore dealer clinches Ssangyong deal, invests millions.
The Motorway Group has announced that Motorway SsangYong Pte Ltd, its wholly owned subsidiary, has been appointed the sole distributor of SsangYong vehicles in Singapore.
Motorway Ssangyong was awarded the sole distribution rights after six months of negotiations, and the deal was signed during October 2007 in Seoul. Motorway has spent $5 million to acquire 150 units of SsangYong vehicles from the previous distributor. It plans to invest another $3 million on the new showroom as well as on an integrated marketing campaign to build SsangYong brand in Singapore.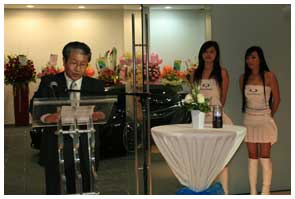 Mr. Michael Lim, Managing Director of Motorway Group said, "With Motorway's extensive experience in the local car industry, we are confident in the marketability and growth potential of SsangYong here, especially as other Korean brands achieve global success. SsangYong is a brand that is youthful, trendy and vibrant. It has a bright outlook with the reputation of Korean products for high quality, stylish design and use of advanced technology."
Committed to growing the SsangYong brand in Singapore, Motorway Group has invested in a state-of-the art showroom located at Lower Delta Road. The new SsangYong Gallery marked its official opening with a visitation from Guest-of-Honour, Mr. G. T. Lee, Managing Director, Vehicle Export Division of SsangYong Motor (Korea). Dedicated technicians from Korea are on site to ensure timely and reliable delivery of after sales service.
The facelifted version of the 2.3-liter SsangYong Actyon Sport Utility Vehicle (SUV) was also unveiled during the showroom launch.
The new Actyon is one of three SsangYong models that will be available in Singapore. The other two models include the Actyon Sports, a 2-liter Sport Utility Truck (SUT) powered by an energy saving diesel engine. Over 100 units of the Actyon Sports have already been ordered before the official launch. The Stavic is a premium Multi Purpose Vehicle (MPV) integrated with the power, space and utility of an SUV. The Actyon SUV and Stavic are both powered by Mercedes Benz licensed engines.