---
Mazda, now under Eurokars Group of Companies, has reintroduced two models to the current Mazda lineup in Singapore.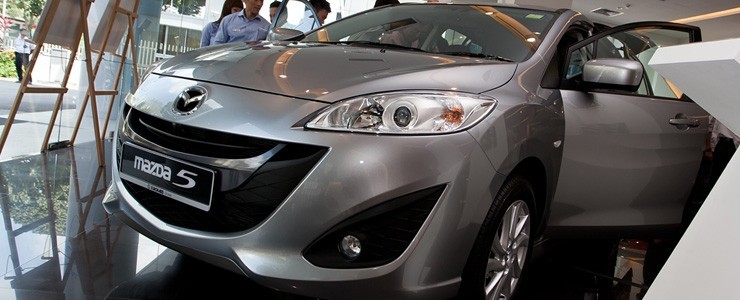 Since its announcement of its sole distributorship of Mazda Singapore in November 2011, Eurokars Group of Companies, synonymous with premium automotive brands such as Porsche and Rolls-Royce, has revived the Mazda 3 and introduced the Mazda 5 to the current line-up in Mazda's stable.
Setting the first step in the group's goal to further elevate the brand image and awareness of Mazda here, Mr Karsono Kwee, Executive Chairman of Eurokars Group of Companies, said that they will be providing Mazda customers with world-class products and service and that more exciting cars such as the Mazda CX-5 will arriving later this year.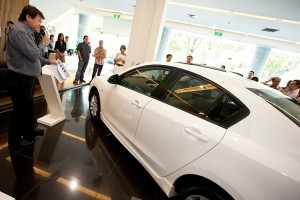 Mazda 3
Since the car saw daylight in 2008, the second-generation Mazda 3 has been highly recognised as a compact sedan in Singapore, thanks to its high degree if product quality and punchy drivetrain. Apart from some minor changes on its frontal appearance, Mazda's development team made it a point to retain its exciting driving characteristics and exceptional fuel economy.
With this model, Mazda has created a consistent and linear driving feel in the 3, which extends to ensuring that torque rises in precise proportion to the force applied to the accelerator. Thus, the Mazda 3 is now a more pleasing car to pilot on a daily basis.
The Mazda 3 will be available in two specifications locally, the 1.6-litre Sedan and the 1.6-litre Hatchback, retailing at $118,988* and $121,988* respectively.
*All prices are accurate as of 9
th
February 2012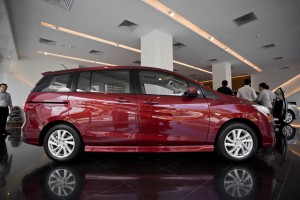 Mazda 5
Previously not available in Singapore's market, the Mazda 5 is an MOV that has successfully established a product image that earned it a stable position in its segment. It's superior packaging, unique functionality and flexible seat arrangements are attributes that have reflected Mazda's intention on creating an eco-friendly minivan that every member of the family can enjoy.
Inspired by the beauty of nature, the Mazda 5 incorporates motifs from Mazda's
Nagare
(flow) design language. This allows the MPV to present an elegant look not found in any existing cars in its segment. This can be easily seen on the door panels of the 5, with curvy lines that flow like waves from the front to the back doors. It is an appealing look that both captures the eye upon first glance and realises outstanding aerodynamic performance.
The 2.0-litre Mazda 5 Sedan is available at $165,988*
*All prices are accurate as of 9
th
February 2012
Mazda Spot & Win
Mazda is now spotting for its fans. If your car is spotted with Mazda's decal (As shown in the gallery below), by their roving Mazda Team, you stand to win attractive Mazda premiums! Winning car plate numbers will be announced on their Facebook page on the last day of every month. So go on and like Mazda on Facebook now!
About Mazda Singapore
The Eurokars Group's extensive experience in sales and after-sales services over the last 26 years, having serviced premium marques such as Porsche, Saab, Rolls-Royce and MINI, has certainly raised the levels of service standards. The Group is confident it can provide a high level of service to all Mazda owners. All written warranties under Mazda brand will be honoured, and all service agreements will be carried out by Eurokars Group.
All existing and prospective Mazda customers can visit the showroom and Service Centre at 315 Alexandra Road for all sales and after-sales services. For customers' added convenience, a new Mazda Service Centre has been established at No.5 Ubi Close. Body repairs and refurbishing services are available at Eurokars Centre, 12 Sungei Kadut.