Two Frenchmen set off to fulfil their electric dreams: a round-the-globe expedition in the Citroen C-Zero - a fully electric-powered automobile.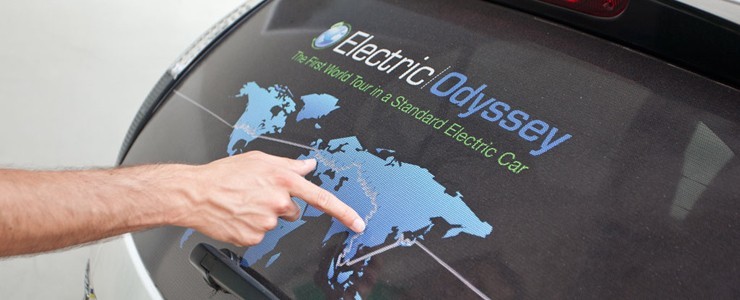 It is not uncommon to come across world tours by motoring enthusiasts, in cars and bikes alike. This time round however, the subject is a little different. Running on invisible charges, a duo of Frenchmen set off to complete the World's first tour in an electric car.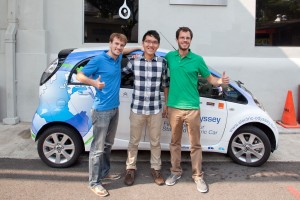 Dubbed the Electric Odyssey, Xavier Degon and Antonin Guy embarked on the journey back in February this year. The aim is to cover 25,000km and cross 17 countries in 8 months. Their ride: a Citroen C-Zero (the identical-twin half of the local Mitsubishi i-MiEV). Starting off from their base in Strasbourg, France, their route will pass through the North American Rocky Mountains, Japan, and South-East Asia, before making their way back home via the Silk Road and finally crossing central Europe.
The Citroen C-Zero can cover up to 150km on each full-charge. Thus, the duo will need to make intermittent pit stops to have their car "re-fuelled". However, the duo believes that the pros of electric cars will aptly outweigh that of the cons - not only does it reduces the pollution to the environment, running costs are substantially lower than that of a petrol-driven one too. It will take no more than €1 (S$1.60) worth of electricity for the car to cover 100km. Doing the sums, energy costs for expedition should come up to no more than €250 (S$401.60).
With the duo making a pit stop on our local shores, we jumped at the chance to find out more about this unique expedition.
SGCM:
Xavier and Antonin, a very warm welcome to Singapore. Thank you for giving us the chance to find out more about the Electric Odyssey (EO). What were the motives / inspirations behind this expedition?
EO Team:
Our main aim was to increase the awareness of Electric Vehicle around the globe. We realised that much of the public have little knowledge of electric cars. For instance, modern electric cars actually pack real-world practicality. Our car, for instance, can be charged via the normal household electricity outlet.
SGCM:
I am sure you guys spent an equal amount of time and effort into the planning of the trip. Would you bring us through the specifics? And which was the tougher part, planning or executing?
EO Team:
We spent one year thereabouts for the planning of the journey. We must say that it is definitely not an easy task to secure charging stops for our EV, and most of these stops were not firmed up when we departed from our base. We garner help and support through our website.
The tougher part of the journey is through the more deserted areas, where it is harder to locate households for charging up the car - this especially so at Kazakhstan and part of U.S.A. However, the necessary intermittent stops also meant that we have more chance to communicate with the local publics and have a better understanding of each different location.
One of our aims is also to complete the journey by end September, so as to be at the Paris Motorshow where the car will be on static display. With numerous factors coming to play which will affect the length of our expedition, it is hard to say at this point of time if we can make it to the show.
While it is tough on both parts, we had great help from the sponsoring firms (both of them are also currently employed by two of the participating companies in the sponsoring of this event). Both of us took sabbatical leave from our companies to take part in this eight months expedition. Furthermore, we are also very glad to receive help from AXA Assistance, which provides both technical and medical assistance to our team 24/7, in the event of any emergencies, on top of their financial contribution.
SGCM:
Last but not least, what do you think of Singapore and the local receptivity for EVs?
EO Team:
We think that Singapore, with its highly urbanised environment, is a very suitable place for the adoption of electric vehicles. So far among the countries that we have been too, Japan has been the early adopter of the clean energy, with a matured network of charging ports around the country. While there are still signs of a luke-warm receptivity by the public, we believe that slowly people will warm up to the technology.
Xavier and Antonin have set off for the next leg of their expedition, driving up to Malaysia and Thailand. Individuals who wish to show their support for the duo can do so via their website at
http://www.electric-odyssey.com/?lang=en


We wish them all the best in their expedition!