---
Day 2 of the Jakarta Driving Experience unravels more of the 335i's dynamic performance, as we take it through potholes aplenty mountain paths.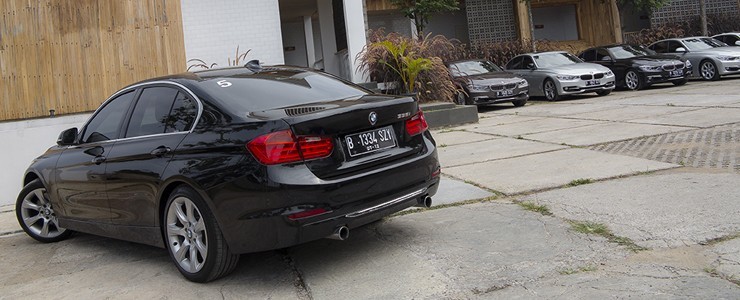 The latest 3 Series (codenamed F30) has grown in most dimensions, most notably the wider tracks, and a 50mm increment in wheelbase - making it the sportiest and most roomy 3er yet from the Bavarian marque. Read about the launch in
Part I
.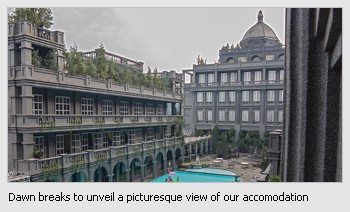 The breaking of dawn unveils a picturesque view out of our windows - unique architecture of the hotel backed by the scenic atmosphere of Bandung. Borrowing cues from the ancient Rome, every detail on the façade were beautifully handcrafted. What a start to the morning!
After checkout, we met up with our Indonesian media friends, and set off to our lunch location in convoy, located in the mountainous town of Lembang. Over the pot-holes aplenty path leading up to the hills, the 335i's sturdy chassis and near perfect weight distribution lends to the clean, charismatic driving. Though over bumpy roads it could not have been said as a magic carpet's ride, the 3 Series takes on the imperfections in a dignified manner, with asphalt imperfections causing less of a stir in the well-balanced cabin.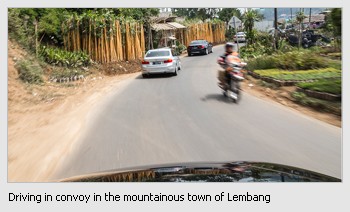 In perfect tranquillity, host Andhika Maxi passionately relates each dish to the experience he had in the latest 3 Series. Like his well-received culinary art pieces, the 3 Series is an icon in the automobile industry, setting the benchmark in its class. 'All good things must come to an end' - never have been more appropriate for the occasion. The lunch marks the parting of the media gathering; while our journalists set off for the return leg of the driving experience to the capital city, Jakarta.
Once again, the 335i did not disappoint. This time I experienced the journey as a rear passenger. Foremost, the rear bench provides adept cushioning, well-balanced between support and comfort, taking away a good part of the fatigue from the long journey. Gracing the rear quarters are also the roomy leg room: benefitting from the extended wheelbase, there are more than sufficient allowances even for vertically-inclined individuals.
To sum it all: BMW's bread-winning offering, the F30 3 Series is now more accomplished than before – honing the parts and pieces that we have grown to love about the compact sports sedan, yet without compromising on real-world practicality. A tall benchmark indeed.