Sponsorship of Singapore racing team aims to develop winning skills, talent and passion for the sport.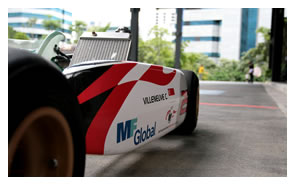 MF Global Singapore Pte. Limited, a fully owned subsidiary of the world s leading broker of exchange-listed futures and options MF Global Ltd, is set to take Singapore to new heights in the international racing sport scene with the sponsorship of the Singapore Racing Team.
The 6-person team will represent Singapore for the first time in various categories of the 2008 Asian Karting Open Championship (AKOC) which will be held from June till December at various locations Macau, Philippines, Indonesia, Thailand and Hong Kong.
"Speed, accuracy and commitment towards excellence form the fundamentals for MF Global Singapore s success. These values are in line with the company s sponsorship of the Singapore Racing Team. We believe that supporting and encouraging promising young sporting talent is the key to raise champions. By sponsoring the Singapore Team, we hope to invigorate the sport by providing the much needed support for these members as well as foster an appreciation for the go-kart racing sport," said Mr Daniel Yeo, MF Global Singapore s Chief Executive Officer.

Apart from recognizing talents, MF Global Singapore firmly believes that nurturing these talents by providing them with the right environment to excel will breed champions. Out of this Singapore Racing Team, the company has plans to nurture Christian Villeneuve who will be taking part in the AKOC Junior racing category. At such a young age, this racing prodigy has already competed in numerous local go-kart competitions and even beaten older and more experienced racers.
Go-kart racing has come a long way in Singapore since its early beginnings. MF Global Singapore s involvement and recognition of talent in this sport will accelerate go-kart racing to the next level in Singapore, said Benjamin Goh, Team Director for the Singapore Racing Team.
About MF GLOBAL, SINGAPORE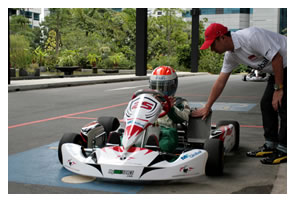 MF Global Singapore is a corporate derivatives clearing member of the Singapore Exchange (SGX) and an approved securities broker-dealer. It has been providing comprehensive, quality brokerage services to corporate and institutional clients, professional traders, asset managers, and individual investors since 1986.
MF Global Singapore offers 24-hour-a-day execution, clearing and settlement services on all major futures and options exchanges around the world and certain securities exchanges as well as access to over-the-counter markets in foreign exchange, precious metals, OTC energy and equity derivatives including contracts for difference (CFDs).