---
Royal Plaza on Scotts flags off in aid of Community Chest, Autism Children's Centre.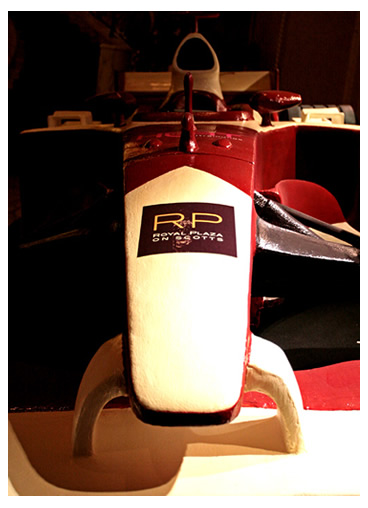 Chefs of Royal Plaza on Scotts worked tirelessly on the life-sized chocolate race car for a week
Singapore, 7 August 2008
- It's all lights and speed as the country celebrates the first ever motor racing event held in Singapore. And at Royal Plaza on Scotts (RP), the occasion will be flagged off with a life-sized chocolate race car in its lobby. It is the first ever life-sized chocolate race car to be created in Asia.
Eight of RP's chefs worked tirelessly over seven days to complete the chocolate piece-of-art. The hotel's Executive Pastry Chef, Choo Eng Tat headed the team of chefs in the crafting of this unprecedented exhibit in Asia. Since his arrival in May 2008, Chef Choo, a talented chef in pastry art, has revamped the hotel's pastry selections with new additions to Gourmet Carousel's popular selections of delectable desserts and pastries.
Measuring 4.7 metres long and 2.0 metres wide, this chocolate piece-of-art will be among the main attractions for the hotel in commemorating the first ever motor racing event in Singapore.
"As the country is abuzz with excitement of Singapore's first motor racing event, we want to offer our guests that sense of exhilaration when they visit the country during this period. And what better way to do this than crafting a life-sized chocolate race car symbolic of the event, and benefiting the less-privileged at the same time," said Mr Patrick Fiat, General Manager of RP.
Anyone who might be interested will be able to take part in the following ways:
A Scale-model version of the chocolate race cars, made of fine edible chocolate can be purchased at Gourmet Carousel. The scale-model version retails at S$28 each with $5 from each sale contributing towards Community Chest, Autism Children's Centre.


Charity lucky draw tickets will be on sale at RP, priced at S$5 each. The tickets entitle the participants a chance to win exciting prizes, including complimentary stay in the Executive Suite at RP, iPod Touch 16GB, and champagne brunch vouchers from Carousel, the Best Buffet Restaurant 2007 selected by The Straits Times.


RP is also inviting the public to join in this celebration by submitting a photo of their experience with the life-sized chocolate race car. The best photo with the most creative description will win a Sony Digital Camera. Petrol vouchers will be given as consolation prizes. All submission of photos must be sent to marcom@royalplaza.com.sg by 30 September 2008 to qualify for judging. Winners will be notified by email.

"We are indeed very privileged to have strong support from various hospitality businesses in Singapore, and particularly from Royal Plaza on Scotts which has continually spearheaded various charitable projects to support our cases," said Ms Jennie Chua, Chairman of Community Chest Singapore.

"RP has always been in support of Community Chest's movement. We will continue to offer new exciting activities to our guests, and at the same time do our part towards being socially responsible to our community," added Mr Fiat.

The life-sized chocolate race car will be parked at the lobby of RP, and the charity donation drive will run from 7 August 2008 until 30 September 2008.