Chandler has come up with a new product that does not require you to jack up your car with brute force. With the Titan air jack, you just need to connect it to your exhaust pipe to raise your car.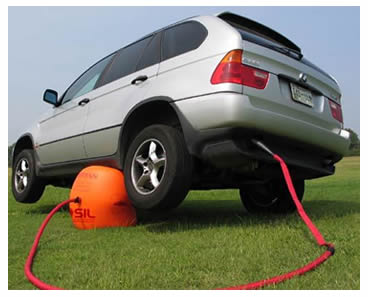 Simply put, the Titan air jack is a heavy-duty balloon inflated by the exhaust gas of your own vehicle. Just place the bag under the vehicle, and connect the inflation hose to the vehicle's exhaust pipe. Start the engine, and exhaust gases are forced in through the one-way back valve which will keep it inflated for up to 45 minutes and can deflate slowly or as fast as 5 seconds.
The Titan Exhaust Air Jack is made from a woven polyester material coated with PVC and double-layered on the top and bottom. Vehicles can be lifted a good 30 inches above the ground, making tire change a breeze.
Interested? You will have to ship it in from the USA. Details here :
http://www.airjackusa.com/