---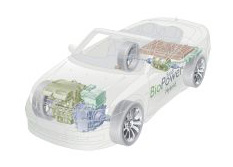 • World's first hybrid capable of running on pure renewable fuel
• State-of-the-art two-mode hybrid transmission
• 260 hp Saab BioPower engine
• Retains full 'flex-fuel' capability - gasoline and/or bioethanol
• Zero fossil fuel emissions when running on E100
• Increased performance from torque boosting electric motors
• Fuel saving 'Zero Mode' for city driving on electric power only
• Energy saving features include regenerative braking, engine stop/start
• All-wheel-drive capability for improved traction
The latest development of Saab's innovative combination of BioPower and hybrid technology is presented at the British International Motor Show (July 20 - 30) in London: The Saab BioPower Hybrid Concept.
This unique concept, showcased in a Saab 9-3 Convertible, is the first vehicle to combine a fossil-free bioethanol fuel (E100) capability with electric-only propulsion by utilizing the advanced two-mode hybrid system which General Motors Corp. is co-developing with DaimlerChrysler and BMW Group. The Saab BioPower Hybrid Concept is capable of zero fossil fuel CO2 emissions while also enhancing performance and reducing energy consumption.
Packing 260 hp (191 kW) from the 2.0-liter turbo BioPower engine and a total of 148 kW from its three electric motors, the Saab BioPower Hybrid Concept provides significantly greater torque than its gasoline-only equivalent.
Although it has the potential to run on E100, the all-aluminum 2.0-liter BioPower engine retains a 'flex-fuel' capability and can use any combination of gasoline and bioethanol.
The BioPower engine operates in tandem with a sophisticated electric power system, comprised of the two-mode hybrid transmission, a rear-drive unit (RDU), a 300-volt battery and sophisticated electronic control. It offers torque boosting electric power assistance on demand, fuel-saving stop/start functionality, regenerative braking, seamless gear changing from the continuously variable transmission modes and an electric-only 'Zero Mode' option for city driving.
Projected performance for the Saab BioPower Hybrid Concept indicates acceleration from zero to 100 kph in just 6.8 seconds, a substantial improvement compared to 9.5 seconds for the equivalent 210 hp gasoline model with a conventional automatic transmission.
"This concept allows us to evaluate and explore the potential of hybrid technology in combination with BioPower," says Jan Åke Jonsson, Saab Automobile's Managing Director. "As part of this process, we are now developing our expertise further by introducing the two-mode hybrid technology. It shows how we can continue to express the sporty performance associated with Saab while using renewable resources and saving energy overall."
Two-Mode hybrid technology
The Saab BioPower Hybrid Concept showcases the state-of-the-art two-mode hybrid transmission. This sophisticated technology represents a major industry milestone, achieving an unprecedented level of integration by combining two electric motors and four fixed gears within a single transmission housing.
Commonly described as a two-mode hybrid due to the low- and high-speed electric continuously variable transmission (ECVT) modes, the fuel-saving technology also incorporates four fixed gear ratios for a total of six operating functions. The result is trend-setting hybrid technology that provides superior fuel economy, performance and load carrying potential.
The two-mode hybrid's electric motors can be used for electric-only propulsion, boosting the internal combustion engine and providing regenerative braking.
Additional fuel-saving efforts include removing auxiliary functions, such as the water pump, air conditioning and power steering systems, from the engine's belt drive and transferring them to electric power through the hybrid system.
The two-mode hybrid transmission is similar in size to a conventional automatic transmission. Its adaptable design allows it to be scaled to the size, mass and performance needs of various engines and vehicles.
BioPower propulsion
The Saab 9-5 2.0t BioPower, which is capable of using E85 fuel (85% bioethanol/ 15% gasoline), is an outstanding success in Sweden, where it is currently the best selling flex-fuel vehicle.
The Saab BioPower Hybrid Concept now advances Saab's alternative fuel technology by adding an E100 capability. The engine is a BioPower evolution of the current all-aluminum, 16-valve 2.0-liter turbo engine in the Saab 9-3 range. Utilizing the higher octane ratings offered by E100, it develops 260 hp and an impressive 375 Nm maximum torque, an increase of 24 percent and 25 percent, respectively, compared to its gasoline-only equivalent.
A Spark Ignited Direct Injection (SIDI) system provides optimum combustion with E100, ensuring the same cold starting performance as a gasoline engine. Variable inlet and exhaust cam phasing is used for optimum air flow and more durable valves and valve seats are fitted, together with bioethanol-compatible materials for the fuel system.
Hybrid architecture
An integrated hybrid operating system has been adopted, where the control strategy is based on efficient 'energy management' - recovering and storing energy that is otherwise lost in a conventionally powered vehicle. Apart from converters to manage AC/DC and 12 and 300-volt interfaces, there are three core components: the two-mode hybrid transmission, with two electric motors (described above), an electric Rear Drive Unit (RDU) with a third motor, and a 300-volt battery.
The RDU features a 38 kW motor, located between the rear wheels, which powers a transmission differential and drive shafts. Under acceleration at low speeds, the RDU is able to briefly generate 665 Nm of additional torque. The motor is also configured to provide regenerative braking and energy recovery from the rotating drive shafts during deceleration.
Energy storage for all three electric motors is provided by a high capacity 300-volt lithium-ion battery with fan cooling. This is neatly packaged under the floor of the trunk, without eliminating storage space. Battery performance is carefully monitored and governed by a dedicated electronic control unit.
Driving Benefits
The sophisticated electronic control of the hybrid system is matched to the operating parameters of the BioPower engine to provide performance enhancing power assistance, useful power saving functionality and seamless gear changing.
Under transient driving conditions, a combination of all three electric motors may be activated to augment the power of the engine, increasing standing start acceleration and in-gear performance for safe overtaking - without raising fuel consumption. The driver will also immediately appreciate the smooth operation of the two-mode hybrid transmission.
At take off, the Saab BioPower Hybrid Concept exploits the instant torque of its electric motors, smoothly adding strong, accelerative power during the engine's pick-up, from tick-over to about 1,500 rpm. During this phase the available pulling power, or torque, of the combustion engine is supplemented by the electric motors of the hybrid system.
Whenever the vehicle is stationary, the engine is immediately shut-off to save fuel. To move off, it is then almost silently restarted by a motor in the two-mode hybrid transmission.
In congested driving conditions, fuel saving is taken a step further by the Saab BioPower Hybrid Concept's 'Zero Mode' option, resulting in zero fuel consumption and zero emissions. It can be selected by the driver via a button in the central console. At speeds below 50 kph, 'Zero Mode' will shut off the engine and switch the car over to electric power only from the RDU. In this mode, the battery bank provides a range of between 10 and 20 kilometers. The engine is smoothly re-engaged whenever the battery status approaches a low charge level or the electronic throttle opening requires acceleration beyond the 50 kph operating limit.
Whenever the engine is shut down, auxiliary functions, such as the power steering, air conditioning and lighting, remain unaffected because these are electrically powered by the battery. The removal of unnecessary loadings on the engine further contributes to fuel economy and an extended driving range.
Finally, in low grip road conditions, traction can be optimized by the addition of rear-wheel-drive for improved handling and safety. For example, when the electronic traction control system (TCS) is activated at the front wheels, the car can be balanced by the application of rear drive.
Driver instrumentation for the Saab BioPower Hybrid Concept is as discreet as the installation of its hybrid engineering. In the main instrument cluster, icons are illuminated to indicate when the car is running on engine and/or electric power. An additional gauge shows the power status of the battery. The turbo boost gauge is calibrated by tree icons, a playful reminder of the car's renewable energy source.
In overall operation, the Saab BioPower Hybrid Concept is designed to deliver enhanced performance and valuable energy savings. The concept enriches driving appeal while also moving further towards the goal of sustainable mobility.