---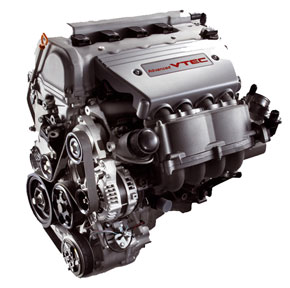 Honda Motor Co., Ltd. has further advanced its VTEC (Variable Valve Timing and Lift Electronic Control System) technology with the development of the Advanced VTEC engine, which achieves high performance along with outstanding fuel economy and lower emissions. The new engine combines continuously variable valve lift and timing control with the continuously variable phase control of VTC (Variable Timing Control). Honda plans to release a production vehicle equipped with the new engine within three years.
This new system permits optimum control over intake valve lift and phase in response to driving conditions, achieving improved charging efficiency for a significant increase in torque at all engine speeds. Under low to medium load levels, the valves are set for low lift and early closure to reduce pumping losses and improve fuel economy.
In combination with optimized intake components, these advances in control technology result in world-class dynamic performance along with approximately 13%* improvement in fuel economy. The new engine is also exceptionally clean, with exhaust emissions that meet both U.S. Environmental Protection Agency LEV2-ULEV regulations and Japanese Ministry of Land, Infrastructure and Transport requirements for Low-Emission Vehicles, with emission levels 75% lower than those required by the 2005 standards (based on Honda calculations).
* Engine only, as compared to production 2.4-liter i-VTEC engine (Honda calculations)