---
Production of Saab vehicles will be halted for two more weeks as the Swedish carmaker attempts to resolve problems with its suppliers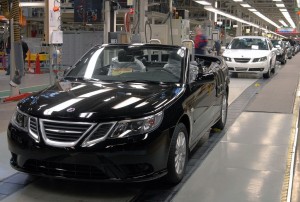 The company announced that "There will be no normal production during weeks 25 and 26", which are the weeks that start from June 20, until July 3 Saab spokeswoman Gunilla Gustavs told Reuters. "We are still negotiating with all suppliers and we need to get everyone on board at the same time. The weeks of 27-29 (July 4th-24th) are planned to be normal working weeks".
Saab had previously stopped production for two months earlier this year following a dispute with suppliers over payments, but the Swedish carmaker restarted production in late May. However, Saab stopped production again last week when engine and parts supplies ran out.
Saab, through its parent company Spyker Cars, recently signed a deal with China's Pang Da Automobile and Zhejiang Youngman Lotus Automobile, which if approved by the government, would put Saab into the control of its Chinese shareholders.