---
Opel has released pictures of its new Combo van, which is based on the Fiat Doblo following an agreement between the two carmakers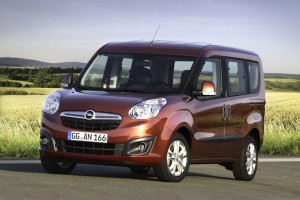 Previous Opel Combo vans had been based on the Corsa supermini, but Opel's parent General Motors signed an agreement with Fiat last year which will see the Italian carmaker supply Opel with commercial vehicles, starting with the new Doblo-based Combo.
The new Combo will be available in a choice of two wheelbases, at 2,755mm or 3,105mm long. This means that the Combo will measure either 4,390mm or 4,740mm in length, while roof height also varies, at either 1,850mm or 2,100mm.
Opel says that the shorter version will have up to 3,800 litres of cargo capacity, while the long wheelbase model can accommodate up to 4,600 litres. The Combo is available in passenger vehicle guise, with five or seven seats, and a panelled or glazed body.
Engine options include four diesels and one petrol unit, as well as a Compressed Natural Gas (CNG) version. The diesel range consists of a 1.3-litre CDTI and 1.6-litre CDTI, both producing 90bhp, another 1.6-litre CDTI with 105bhp, and a 2.0-litre CDTI with 135bhp. The petrol engine meanwhile is a 1.4-litre unit with 95bhp, while the CNG version produces 135bhp.
The petrol and 1.3-litre CDTI engines come with a five-speed manual gearbox as standard, while the CNG and other diesel units are mated to six-speed manual transmissions. The 1.6-litre CDTI with 90bhp is also available with Opel's 'Easytronic' automated five-speed manual transmission. A Start/Stop system is also available for all versions except for the CNG model and the 1.6-litre CDTI with Easytronic.