---
Saab has sold the first 9-4X in the US, which is based on the Cadillac SRX and is built alongside its GM cousin in Mexico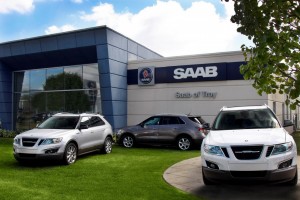 The Swedish carmaker is facing financial troubles in its home country, but the sale of the 9-4X in the United States is expected to give Saab a boost. "Our first vehicles are just hitting retailers and our first customer sale took place last weekend at Saab North Olmstead in Cleveland, Ohio" said President and COO of Saab Cars North America, Tim Colbeck.
The first US buyer of the 9-4X is Martin Reuben. "Before even driving it off the lot, I put my butt into the seat, looked around and bought it on the spot," said Reuben. "So far everything I've discovered on this car is pure Saab – purposeful & well designed." Saab says that it has received 100 orders for the 9-4X so far.
The 9-4X is available in the US with a choice of two V6 engines. The first is a naturally-aspirated 3.0-litre with 265bhp and 302Nm of torque, while the other is a 2.8-litre with a twin-scroll turbocharger which produces 300bhp and 400Nm of torque. Both engines are mated to six-speed automatic transmissions, and while the 3.0-litre version is available with front-wheel drive or Saab's XWD all-wheel drive system, the 2.8-litre is four-wheel-drive only.