---
BMW is offering two new performance power kits for its 135i Coupe and 335i models in the US, which increases power up to 320bhp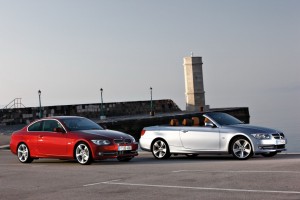 The version 1 Power Kit, which is also available for X6 crossovers produced up to April 2010, includes an engine software optimization that increases output by 20bhp to 320bhp, and peak torque from 407Nm to 450Nm when equipped with an automatic transmission, and 430Nm when fitted with a manual or DCT transmission.
According to BMW, with this kit, the 335i completes the 0-100km/h sprint 0.2 seconds faster than the standard model. It is also 0.5 seconds faster in the 80km/h to 120km/h acceleration and offers what the company describes as an "Exhaust burble" sound during engine overrun conditions.
The version 2 Power Kit includes the ECU upgrade plus an auxiliary water cooler and an enhanced radiator fan to reduce the higher thermal stresses on the engine during extreme driving, according to the automaker, and is available only on the 135i and 335i. The stage 1 and 2 Power Kits for the 135i and 335i are fully covered under BMW of North America's limited warranty and can be retrofitted at BMW centres or via the Port Installation Program.