---
Mazda has announced the RX-8 Spirit R, a special edition of the RX-8 which will go on sale in Japan in November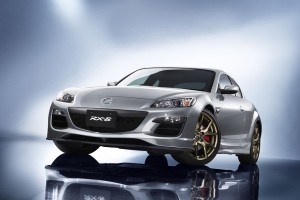 The RX-8 Spirit R will be the final special edition of the four-door, four-seater, rotary engine-powered RX-8 coupe, which will end production in June 2012. The RX-8 Spirit R will go on sale across Japan starting from November 2011.
The RX-8 Spirit R is based on the RX-8 Type RS, which has a six-speed manual transmission, and the Type E, with its six-speed electronically-controlled automatic transmission. The RX-8 Spirit R is named after the final limited edition Mazda RX-7, and features include an exclusive seat design and coloured alloy wheels. Additionally, Mazda's curtain and front side SRS airbag system, which is available as a factory-installed option on the base models, will be offered as standard equipment. Following the launch, the Mazda RX-8 line-up will consist of the Spirit R and the Type G, with a six-speed electronically-controlled automatic transmission, only.
Takashi Yamanouchi, Mazda's Representative Director, Chairman of the Board, President and CEO, said, "Mazda's iconic rotary engine recorded its famous victory in the Le Mans 24-Hour endurance race 20 years ago. Throughout 2011, we have been celebrating the 20th anniversary of that victory by demonstrating the winning 787B race car at Le Mans' Circuit de La Sarthe and various other events around the world. At each one, the screaming rotary engine and the sight of the 787B have enthralled everyone from young children to race fans who witnessed its victory in 1991. These events have been a powerful reminder of the widespread passion for the rotary engine. Although RX-8 production is ending, the rotary engine will always represent the spirit of Mazda and Mazda remains committed to its on-going development."
Source: Mazda