---
Having debuted at LA Motor show as a concept model over a year ago, the Toyota-Tesla collaboration RAV4 EV production model is now ready for launch.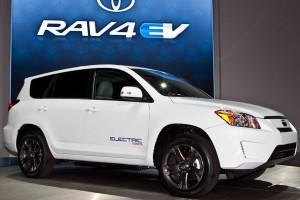 Having debuted at the 2011 Los Angeles Motor Show previously as a concept model, Toyota is now preparing to take the wraps off the RAV4 EV at the 26th World Electric Vehicle Symposium and Exposition on May 7, 2012.
Reports suggest that Toyota paid Tesla roughly $100 million to supply the RAV4 EV's powertrain, including the electric motor, battery and gearbox, while other details remain scarce at present. The RAV4 EV will be built alongside the standard RAV4 at Toyota's Woodstock plant in Ontaria but the question remains whether it will be based on the current model which is nearly six years old or the next-generation model.