---
Daihatsu not only brought the UFC concept to the Indonesia Motor Show, but also showcased the D-R concept, hailed as the Copen Convertible successor.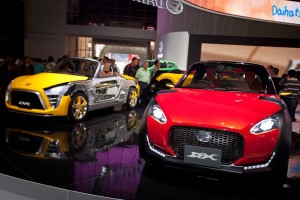 It's perhaps considered rare to see much action from Daihatsu, so it came as a surprise when they brought not only one model but two to the Indonesian Motor Show.
Besides showcasing the UFC Concept, the Japanese automaker also brought the D-R concept, hailed as a successor to the Copen Convertible. The model can be described as a modernised version of the hardtop featuring an oversized front fascia and a windshield frame made from aluminum, with a luxurious leather-wrapped interior.
The concept comes with replaceable resin body panels and a touchscreen inside the cabin handles most of the controls, along with an LCD screen. Under the hood, it is powered by a 2-cylinder 600cc engine, possibly one of the letdowns for this visually pleasing model.
Daihatsu did not comment on whether this model would make for production, so that's a news to follow up on.