---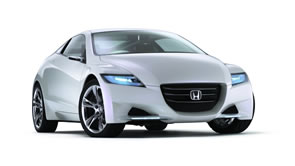 | | |
| --- | --- |
| • | CR-Z hybrid sportscar concept breaks cover |
| • | Funky 'gel body' fuel cell project revealed |
Two striking new concept models will make their world premieres at the 40th Tokyo Motor Show later this month.
The Honda CR-Z is a lightweight, two-seater sportscar equipped with Honda's petrol-electric hybrid IMA powertrain.
PUYO is a fuel cell vehicle designed to provide fun for both the driver and his or her surroundings.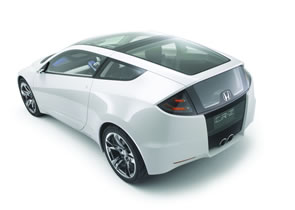 CR-Z Concept
Following in the tyre prints of the Honda Remix Concept (seen at LA Show last year), and the Small Hybrid Sports Concept (debuted at Geneva in March), the CR-Z Concept explores the potential of a compact, lightweight sportscar that's exciting to drive, but has minimal impact on the environment.
The CR-Z features the latest Honda hybrid IMA powertrain to deliver low emissions and impressive economy.
The front of the car sits low, and is dominated by an imposing, large bumper with gaping air intakes. Meanwhile, the smooth lines across the glass roof and rear of the car minimise drag.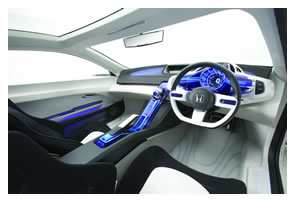 Tube shaped combination lamps at the rear improve rearward visibility, and other design details include stylish, high-visibility wing mirrors, LED headlights, fin-shaped sidelights and large 19-inch wheels to enhance the sporting appearance.
Inside, the aim was to give the concept car a light, spacious and sophisticated feel. The CR-Z's hi-tech interior features a blue, neon-like finish across the main dash and centre console. Mesh material on a simple framework is used throughout, with sporty seats to help support the driver during cornering.
According to the Japanese design team, CR-Z stands for Compact Renaissance - Zero.
PUYO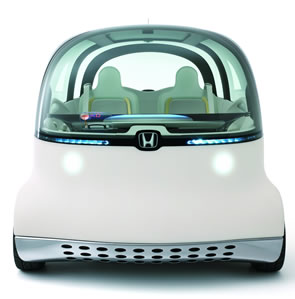 PUYO is a Japanese word that embodies the tactile traits of this unique car. PUYO is meant to convey all that is warm and friendly, and put a smile on the face of users and pedestrians.
This concept car has a 'gel body' made of soft materials that enhance the 'real world' safety properties of the vehicle. Lights beneath the body shine through the gel, to help highlight doors and other manual functions, and notify users of the vehicle's condition.
PUYO represents a new idea in mobility that brings together the principals of clean, safe and fun all into one environmentally-responsible, people-friendly, yet minimalist design. The concept has a small frame, is ultra-efficient and is powered by hydrogen fuel cell technology.
One of the key goals of the project was to create a cornerless car that was kind to both people and the environment. The 'Seamless Soft Box' is welcoming and inviting to look at, but also makes the most of the box-shaped design's spaciousness, managing to accommodate four people within its tiny frame.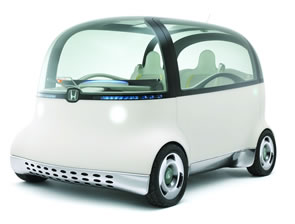 Developed to have a 'silky feel', the PUYO's interior is designed to be inviting and provide a people-friendly cabin with a feeling of space emphasised by transparent materials. Features include an instrument panel monitor, elastic-like controls made from cloth that rise up when the vehicle starts and luminous fluid level displays.
The obvious omission is the steering wheel, which is replaced by a joystick, used for operation and manoeuvring.
Debut of Japanese-market Honda Fit
Holding its own in another corner of the stand is the all-new Japanese Fit, which goes on sale in Japan in late October. Since it was first introduced in 2001, the Fit has been widely acclaimed for its style, functionality, and outstanding fuel economy, with worldwide sales topping two million units.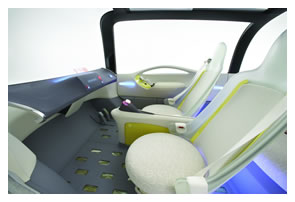 The new Fit will form the basis for the Jazz, which will be launched in Europe in late 2008.
In addition, a 'Next Energy' display will showcase Honda's latest initiatives in new energy development, including technology for producing bio-ethanol from rice straw and environmentally-responsible, next-generation thin-film solar cells, which will soon go on sale nationwide in Japan.
Elsewhere on the stand, Honda will display a range of current production cars as well as more advanced environmental technologies. To reflect Honda's motorsport heritage, the latest Formula 1 car and other racing machines will be on show. 18 vehicles representing 11 different models will be showcased in total.