---
Audi has repeated last year's success in the reader poll of one of Germany's leading automotive magazines. The readers of auto, motor und sport (ams) magazine placed Audi models in first place in four classes.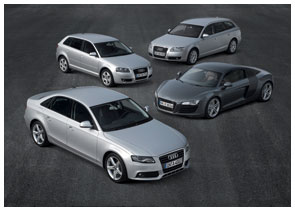 "The reader poll is an important indicator for us. And Audi's success with ams readers shows us that we've got the right products," said Rupert Stadler, Chairman of the Board of Management of AUDI AG, upon being presented with the commendation. "At the same time, the great results are an incentive for the entire team."
With four prizes, Audi is once again the most successful brand in the poll. The success of the new Audi R8 sports car, which banished its established competitors from the top ranking, is particularly notable.
The new Audi A4 sedan also made a sensational debut. The car has been applauded by both customers and the media. The combination of state-ofthe- art technology, roominess, stylish design and high quality makes the A4 a winner.
The success of the Audi A3 has practically become a habit. Audi's compact model came top of its class for the fourth time. This model line will receive an attractive new addition in coming months with the introduction of the new A3 Cabriolet.
The Audi A6 was the winner once again among midsize luxury cars. It combines sportiness and elegance with typical Audi flair. Along with the sedan and the Avant, the model portfolio also includes the sporty S6 and the A6 allroad quattro. In coming months the new top model, the RS 6, will be launched.
The ams reader poll also confirms another trend. The TNS Infratest research institute discovered that, if given the opportunity to buy their dream car immediately regardless of cost, every eighth German would go for an Audi. This made Audi one of the top contenders in the study.